理念 Statement
關渡自然公園自2006年起舉辦關渡國際自然裝置藝術季,是臺灣首次有大型自然藝術活動在以保育為出發點的自然公園舉辦。每年邀請多位國際藝術家,利用自然素材現地創作出能展現藝術美感、傳遞環境關懷的戶外裝置作品。創作過程重視公眾參與,透過對話與合作融入在地精神。活動紮根於深具生態保育價值與豐富河口文化的關渡濕地,打造人與藝術、自然的對話空間,探討「人與自然的關係」這門重要課題,期望能為現代社會與自然相處的失衡狀態找回平衡點。
走過十年,這場藝術行動為關渡自然公園描繪了一幅河口文化、濕地保育與環境藝術共生的藍圖,自2016年開始以「關渡國際自然藝術季」為名,藉著十年累積的經驗與感動,進一步落實、深化對地方的了解與關懷,期望參與其中的每個人,能更主動積極地去重建自己與環境的關係,受自然啟發,共同為未來生命的永續找到方向。
Guandu International Outdoor Sculpture Festival, dating back to 2006, was Taiwan's first large-scale natural art event held in a conservation park. The park is located in Guandu wetland, a place with unique estuary culture and diverse ecosystem. The festival takes place annually and invites artists all over the world to create site-specific outdoor installations by using natural materials. The purpose of this event is not only about art and aesthetics but also about delivering messages caring for the environment. Public participation also plays a part in this event. Through communication and cooperation with local communities and volunteers, artists are able to learn from local wisdom and try to blend in the local culture in their works.
With the experience in the past ten years, this art event has come to a new stage by resetting its title into "Guandu International Nature Art Festival "since 2016.  The triangle composed of river culture, wetland conservation, and environmental art is still the solid foundation of the curatorial concepts.  Guandu International Nature Art Festival is expected to serve as a catalyst to deepen the public's awareness of our environment, as well as care for local cultures.  It is hoped that every single participant of this festival will take the initiative to connect with their surroundings, to get inspired by nature, and to make an effort in finding a way to a sustainable future.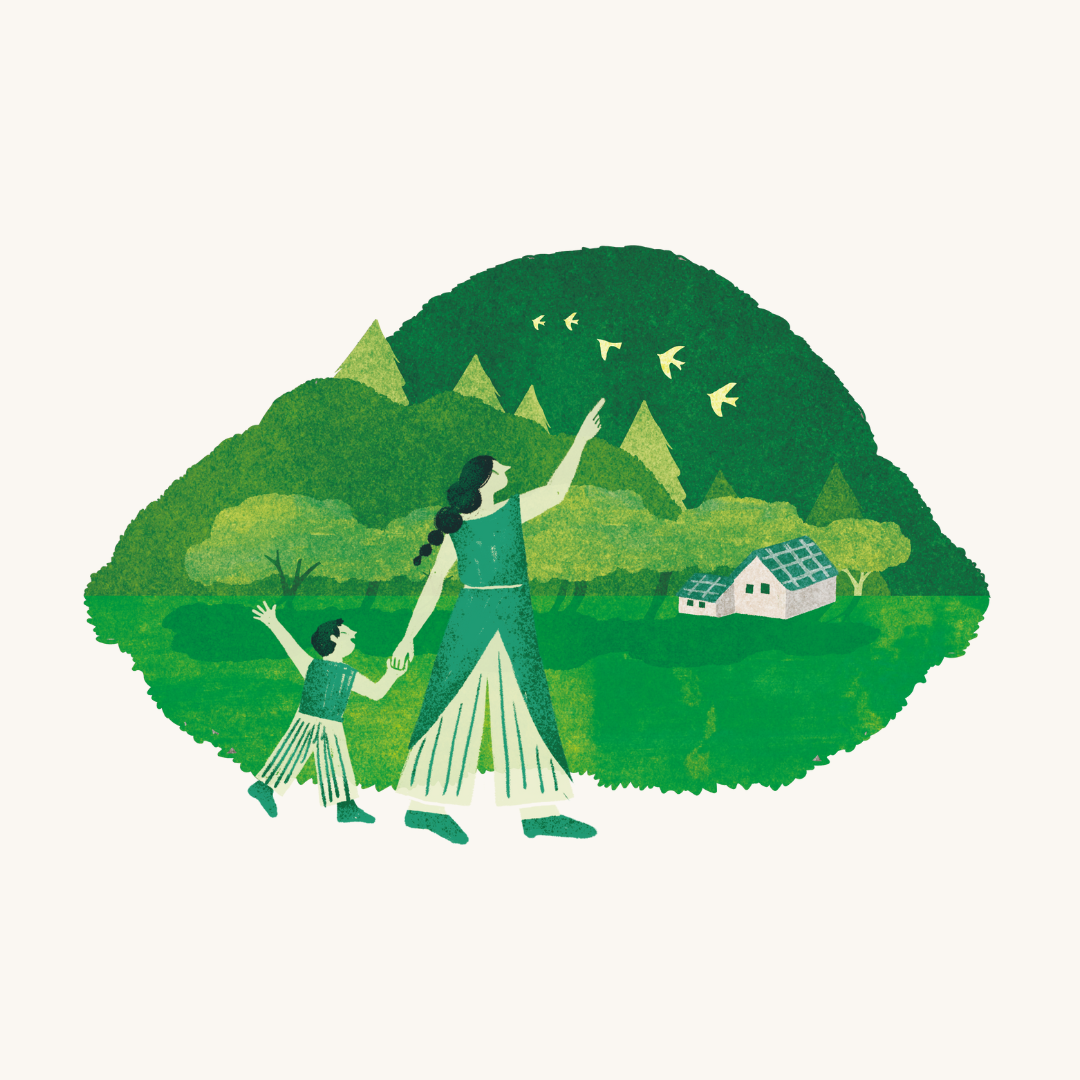 2017 年度主題 Theme of the Year
阡陌之間
關渡平原曾是漢人進入台北最早開墾出的農地,如今卻成了這座城市最後的水稻田。過往再平常不過的景觀,在一棟棟水泥高樓群起圍繞後,夾雜在川流不息的車潮與捷運間,反倒顯得突兀起來。享受這片風光的人,呼籲要留下難得的田園景觀,穿梭田間小路,稻浪搖曳美不勝收。然而做田沒想像中浪漫,看天吃飯的甘苦也只有經歷過的農民才懂,愈來愈差的工作條件、劇烈變化的社會環境,與難以捉摸的氣候變遷,讓這看似樂活的生活方式,增添了更多難以言喻的辛酸。
一方水土養一方人,關渡位處河川匯集、淡鹹水交會處,河水沖積出平坦的關渡平原,自古以來漁產富饒,河口與海岸生物活躍於沼澤泥灘,引來大批水鳥群聚。昔日凱達格蘭族居住於此,漢人抵達後,將當時滿目荒涼的草澤地逐漸開墾為水田進行耕作,同時仰賴淡水河中川流出入的魚蝦蟹貝養活一家子。滄海桑田,數百年後,靠山吃山、靠水吃水的這幅景象,因現代城市發展起了劇烈變化,河水髒了濁了,水田一塊塊消失。時至今日,水變土也變,經濟民生面貌已不同往日,台北人生存模式不再與農田緊緊相連,保留大面積水稻田的關渡平原,擺盪在許多懸而未決的開發僵局之間,眼下她的命運該往哪兒走?對於這片看似在城市裡「剩下」的綠地,我們還可以有哪些想像?
長久以來,受這片水土恩惠的,不只有一代一代的人,許多萬物生命也都因她滋養而生。人類最初為了生產糧食所開闢出的水田,在天然漫淹或積水濕地急速消失的現代社會,反倒肩負起重要的生態功能。水田不僅可涵養水源、調節微氣候,還能提供生物庇護、繁殖與覓食的棲地。採取友善耕作方式更能創造可循環的地力,支持豐富的生態網絡。農耕過程中衍生出許多細膩的在地知識及文化,亦彰顯一種人與自然環境緊密互動的關係。這種從勞動與生命經驗所孕育出的傳統智慧,或許能為日漸與土地疏離的現代社會,重新帶來啟發。
田間道路與水圳溝渠交錯的關渡平原,詳實紀錄了我們看待土地的各種態度。2017關渡國際自然藝術季以「阡陌之間」為年度主題,希冀站在這座城市裡的獨有風景裡,從型塑城市面貌的各種角力中探問自然的處境,在阡陌縱橫的片片水田間梳理城市空間的層次,從現代人快轉的生活步調中找回與自然和諧對話的永續節奏。
阡陌之間,刻劃著眾生足跡,這是一片與你我生命都相連的土地。此時此刻,我們若能謙卑地重新學會敬天愛地,會找回來的又豈止自然生機。
With Paths Crisscrossing
The Guandu plain was the first region in Taipei to be transformed into paddy fields by Han immigrants. Yet today, it is the largest and the last rice paddies in this city. This agricultural landscape was common in the past, but now has become rather rare and out of tune with the surrounding concrete buildings and non-stop traffic. People who enjoy this unique rural landscape are calling for preservation. However, behind the romantic scenes there are farmers striving to make a living with the challenges of the worsening economic and environmental conditions.
Each place has its own resources to raise its own people. Guandu is situated at the confluence of flowing rivers and brackish water. This estuary wetland is a great habitat for a rich variety of organisms, attracting flocks of migratory birds. The Ketagalan were the aboriginal Taiwanese people who first settled in this area. But, it was the Han immigrants who turned the grassy swamp into rice paddies that they still cultivate today.  They also make a living with all variety of fish, shrimp and clams from the Tamsui River. After hundreds of years, the view of Guandu has dramatically changed as Taipei City continues to develop. More rice paddies are lost and replaced by factories and buildings. The water has been polluted by urban waste and people's lives are no longer linked with these farmlands. Due to the need for additional urban development, Taipei City is increasing its focus toward determining the future of these rice paddies.
Generation after generation of people have depended on the bounty of Guandu that has supported a great diversity of lives. The rice paddies, originally used for producing food for human beings, have also provided large areas of open water acting as wetland systems that have played a valuable ecological role. The importance of these roles is growing increasingly, especially when natural wetlands are disappearing rapidly in modern society. Furthermore, a variety of rice-growing culture and exquisite local knowledge have also been derived from the process of farming these lands. It reflects a close relationship between humans and nature. This wisdom could shine a light on our current search for an ecologically sustainable society.
Here in the Guandu plain, each of our attitudes towards the land has been recorded in detail: in the roads cutting through the rice paddies, in the irrigation canals spreading throughout the field, and in all the other traces we left during the process of modernization. Under the annual theme "With Paths Crisscrossing", the 2017 Guandu International Nature Art Festival aims to explore the current status of Nature among the complex forces that shape the city, to disentangle the layers of urban spatiality from an environmental perspective, and to find ways for modern people to live sustainably in tune with Nature.
With paths crisscrossing on this land, our lives are all connected. If we can learn to humbly respect the land and the sky again, then not only can we expect the revival of Nature, but there will be much and much more to come back to bring balance to our modern lives.