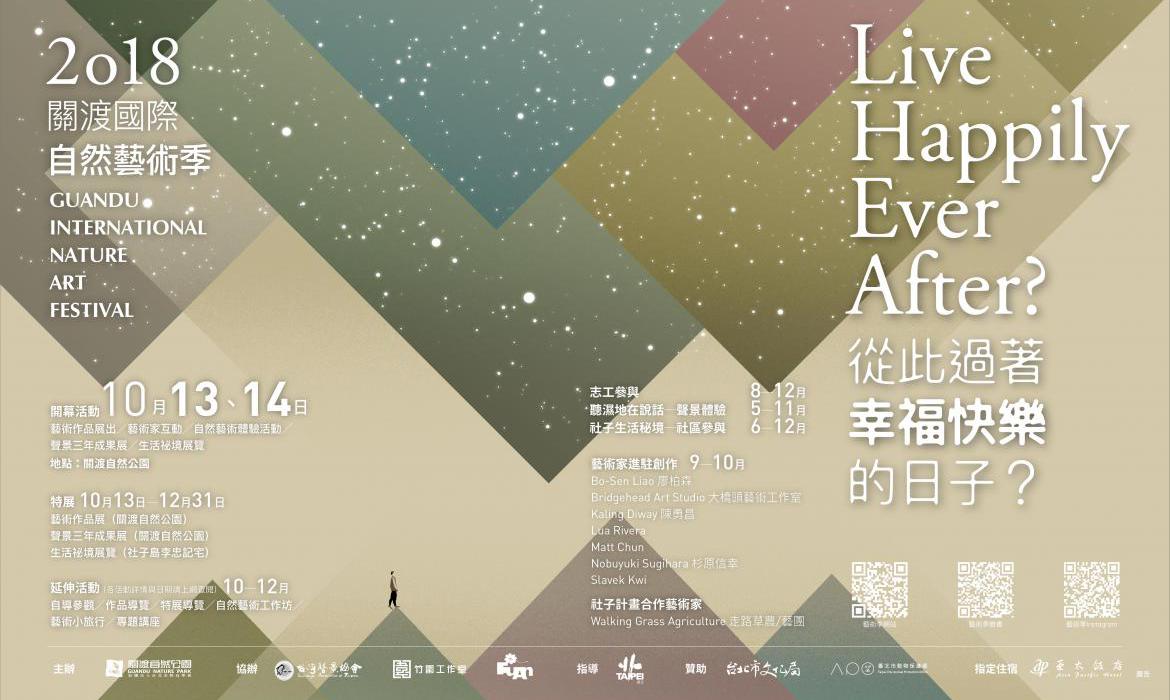 成果故事集 Catalog
成果影片 Film
宣傳片 Promo Video
年度主題
從此過著幸福快樂的日子?
「我們可以度過我們魯莽的嬰兒時代,成長為負責而關懷世界的成人——而不喪失我們的天真爛漫、遊戲嬉鬧,或是神奇感受。但首先我們得以不同的角度來看我們自己,用許多鏡子來審視我們這非常年輕的物種,因為我們非凡的能力,而既受祝福,也遭詛咒。我們不該再忽視或掠奪大自然,而必須要改進我們在其中的自然地位。」

——黛安.艾克曼 (Diane Ackerman)《人類時代》
每一天,我們都在譜寫自己的生命故事,你想怎麼鋪陳當中的情節,以到達心中理想結局?又有哪些角色被你選入故事中,一起組成心之所向的理想未來?然而,在共同編寫「自然史」這部巨作時,身為人類的我們卻時常忘記,仍有多層意義的「住民」與我們共享同一片土地。這些角色無法被排除於故事之外,他們的命運甚至也能左右結局發展。

「棲地」是我們用來指涉野生動植物生存環境的用詞,其實棲地就是生物的家。當人為了需求不斷擴增自己的家,卻使其他住民因而無家可歸,難道只有犧牲一方才是唯一解決之道嗎?當我們依舊只從人類需求來思索我們的未來,真的可以帶來從此幸福快樂的結局嗎?

2018關渡國際自然藝術季,以「從此過著幸福快樂的日子?」這句童話故事結尾慣用語,向「以人類為中心」觀點提出批判,探究一種更具他者關懷的生存倫理,並期待激起對話,共同想像一個能與所有住民共生共榮的永續未來。
Theme of the Year
Live Happily Ever After?
"We can survive our rude infancy and grow into responsible, caring adults—without losing our innocence, playfulness, or sense of wonder. But first we need to see ourselves from different angles, in many mirrors, as a very young species, both blessed and cursed by our prowess. Instead of ignoring or plundering nature, we need to refine our natural place in it."
—Diane Ackerman, The Human Age: The World Shape by Us
Each day, we are writing our own story of life. What sort of plots do you wish to compose to reach your ideal ending? What characters do you plan to include in this bright future? However, in co-writing the epic work "The History of Nature," we human beings often fail to remember there are other inhabitants share this planet with us. It is impossible to exclude these characters from the big story. Their fates can even reverse the denouement we set.

"Habitat" is the word we use to refer to the living environment of an animal, plant, or other organisms. A habitat is, in fact, the home of wildlife. Nowadays, humans keep expanding our territories to fulfill our own need, whereas other inhabitants keep losing their home. Is this win-lose situation the only scenario we can imagine? Can we assure the ending of the story if we still think the future based on our own demand?

2018 Guandu International Nature Art Festival use "live happily ever after," the stock phrase used in fairy tales, to critically review the "human-center" philosophy. We aim to explore the ethics with the care of others and to ignite dialogues. In this way, it is possible to facilitate a sustainable future which all inhabitants can coexistence and mutual prosperity.