Gustavo Charif|樗 Ailanthus
樗—自然裡的美術館
Ailanthus (or The Living Museum of Art by Nature)
古斯塔沃‧沙里夫 Gustavo Charif
阿根廷 Argentina

年份 Year
2016

材料 Materials
舊相框、麻繩、拾得物件、天然塗料
Old frames, hemp rope, found objects, eco paint

位置 Location
埤塘生態區

理念 Statement
Gustavo認為想要創作,首先要學會觀看:樹皮的紋路、海上的暴風雨、甲蟲的色彩…自然界裡的種種細節可說是宇宙最精密的設計。大自然是渾然天成的天才藝術家,它不曾上學,也不曾屈從潮流或市場的需求。受到莊子「無用之用」思想的啟發,Gustavo運用樹枝、樹葉、石頭標記出大自然中的趣味特徵,也使用他在不同國家的森林、河流中撿到的垃圾(如破損的玩具)來製作這次的作品。比起當一個「有用」的「藝術家」,Gustavo更想成為一棵「無用」的樹。

I don't know how to make a masterpiece, but I know that to learn how to paint or produce art is necessary first to learn how to see. The lines of a bark's tree, the storm over the ocean, that design of the rainbow leaf beetle (or Chrysolina cerealis) are arguably expressions of the Universe in its subtle and spontaneous manners. In some way, it's art from a natural talent who never was contaminated by art schools, trends or market.

I only found a museum of art in this natural space, in Guandu, and I stressing the lines using her elements (branches, leaves, stones), but also trash that I found in forests and rivers from different countries (like broken toys) because, as Chuang-Tzu teach us in that passage about the "useless" (Ailanthus), uselessness is useful if we found the usefulness.

This project is strongly linked to my own life, in which I am more and more identify with the useless tree rather than the useful "artist".
---
一起來認識阿根廷藝術家Gustavo Charif!

Q:為什麼想參加這個藝術計畫?
A:過去我都住在大城市,什麼創作素材都用,但近年我想要改變創作方法,所以開始用更多回收材料,剛好關渡的藝術計畫也要求要使用自然素材,我對此非常感興趣。另一個原因是,我從10歲讀到《莊子》就非常著迷,後來也讀了法文和義大利文版本的《莊子》。我認為認識一個文化必須由內而外,所以希望慢慢把中文學好。《莊子》的「無為」思想影響我很多,我認為在這個藝術計畫裡,藝術家要能隱身,不刻意創造,只如實地呈現大自然的一切。藝術的出現,是因為人類要表達細微的情感。而大自然有自己表達情感的方式,你絕對找不到比自然更厲害的藝術家―這也是這次的主題吸引我的原因。

Q:對這次的作品有什麼想法?
A:在自然面前,不帶成見地「觀」,比刻意地「做」更重要。我會先花很多時間觀察,然後像用螢光筆畫重點那樣,裱框出我發現的東西,再用類似拼貼的方式呈現。俯拾皆是的事物其實就是風景。

Q:用裱框的方式,是因為你認同藝廊這種呈現藝術的形式?
A:我認為藝術應該不只發生在藝廊或美術館,而且不該只有少數人獨享。裱框的目的是為了「觀」,唯有知道怎麼「觀」,才有辦法好好欣賞身邊的事物。

Q:這是你第一次來台灣,目前你對關渡和台灣的感覺如何?有什麼印象深刻的事嗎?
A:當我實際來到這裡,我發現網頁的隻字片語很難充分傳達關渡的美,這裡的生態比我想像的更多采多姿,人很友善。台北這個城市也很令我驚奇,我發現這裡的人對孩子充滿關愛,孩子們似乎無憂無慮,不會焦慮吵鬧。對孩子有愛的社會,未來就會有希望。

Let's meet Gustavo Charif from Argentina, the artist of 2016 Guandu International Nature Art Festival!

Q: Why do you want to participate in this art project?
A: There're three main reasons. First, I used to live in big cities and I used any kind of material for artworks. However, I wanted to change my way of approach, so I started to use more recycled materials since last year. This art project requires using natural materials, and this has interested me. Next, I was fascinated by "Zhuangzi" when I was ten years old. I also read "Zhuangzi" in French and Italian. My opinion is that if you want to learn a culture, you have to study from inside. So you must learn its language. The idea of "doing nothing" has influenced me a lot. In this art project, I think it's important to disappear as an artist, but be a receptor of nature. Last, why humans cry and laugh is because they want to express themselves. When there's any imbalance that humans can't express though laughters and tears, they show it through art. And nature has its own way of expression. You'll never find a better designer than nature itself. That's why I found the subject of this year "Base on a True Story" interesting.

Q: Any ideas for your artwork this time?
A: With nature, I believe it is more important to "see" than to "do". I will spend much time on observations, highlighting the things I found with frames, and make some collages. I think found objects are scenes themselves.

Q: Do you do framing because you are in favor of the gallery form of presenting art?
A: I think art should come out of the gallery. It belongs to everyone. I use frames for seeing. You can only see things when you know how to see.

Q: This is your first time to visit Taiwan. How do you find Guandu and Taiwan so far?
A: After I actually arrived here, I found the webpage of the art project didn't show the full beauty of Guandu. The variety of animals and plants here is beyond my imagination. People are friendly too. Taipei also surprised me. I found the people here taking good care of children. Kids here seem to have no stress, and they don't shout or make loud noises in public. When a county has love for children, it is a country with future.
藝術家 Artist
沙里夫古斯塔沃
1986年起,沙里夫曾和多位畫家共同展出作品,也曾與電影導演、作家、音樂人共同創作。
2012年,代表阿根廷參加馬來西亞國際藝術博覽會;
2013年,受中東國家卡達之邀在和平與安全論壇展出作品;
2015年參與美國底特律新藝術博物館「自拍秀」攝影展。
國際參展經驗:大阪藝術博覽會、Cutlog-巴黎當代藝術博覽會、Cutlog紐約當代藝術博覽會。
目前正在製作第二部長片。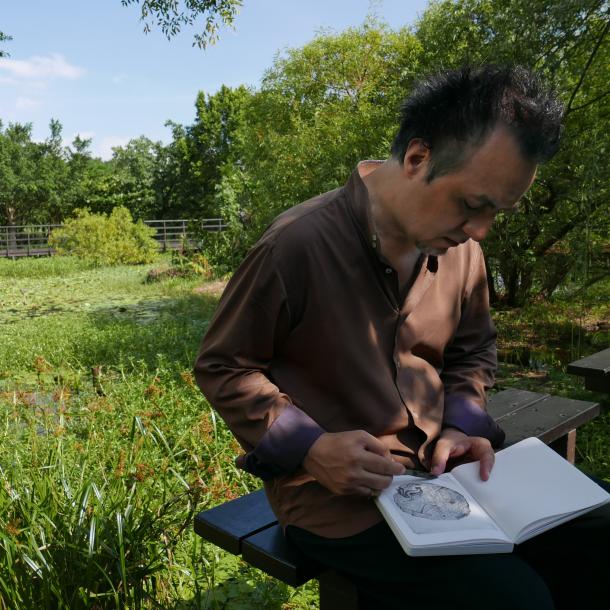 Gustavo Charif
Gustavo Charif shows his works since 1986 and took part in exhibitions side by side with Pierre Alechinsky, Salvador Dalí, René Magritte, Antonio Saura, among others.
Have an artist's book with Fernando Arrabal and Milan Kundera (exhibited at his individual exhibition "Alexandria", Centro Cultural Borges, 2004).
His first feature length film, "The Reason" (2010) includes an unreleased song by Moby.
2012: he represented Argentina (embassy booth) in Art Expo Malaysia, with a one man show.
2013: the State of Qatar requested him an artwork exhibited at the "Peace & Security Forum".
2015: takes part of "The Selfie Show" (Museum of New Art, Detroit, USA) in a selection with artists as Gao Brothers (China), among others.
Last exhibitions in international fairs: Art Osaka (Japan), CUTLOG Paris (France), CUTLOG New York (USA).
His second feature film is on production (2017).