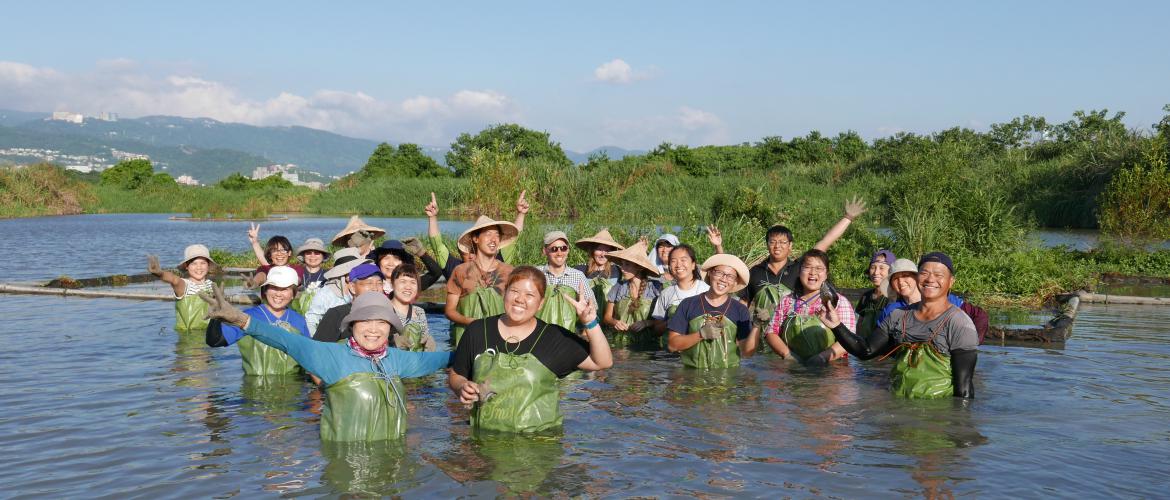 Posted on 24 Sep 2016
與志工一起整理水鳥的家
9月24日藝術家們和今年度的藝術志工相見歡,志工們臥虎藏龍,有人是專業編輯,有人是劇場工作者,有人身經百戰參加過好多個國內外的藝術計畫…接下來真該把握機會,讓大家好好交流交流,從彼此身上挖寶。
大夥下午換上沼澤衣(俗稱「青蛙裝」),跟著環境部同仁一起到水塘裡頭拔草。大家忙著割去浮島上叢生的草,好清出適當的空間,鳥兒才會來棲息,也才能在鳥類育雛期吸引水鳥配對、築巢。環境部同仁平常的工作之一,就是要密切注意植物的生長狀態,好營造鳥兒們喜歡的棲地環境。別看割草看起來容易,單環境部四位同仁要割這一大片草可是很辛苦的!因此平常公園也有環境維護的志工來幫忙。草兒們春風吹又生,很快就長起來了,照料棲地除了要對季節變化很敏銳之外,還要有很好的體力跟耐心。
這次安排讓藝術家跟志工參與園區日常的環境維護工作,一方面想讓大家用身體勞動感受自然,另一方面也想傳達,即使這片環境看起來像是一片「放任」的荒野,但其實維護棲地所花的功夫可真不少,得要會讀自然界裡種種訊息、清楚各種生物之間的關係才行。大家一下水精神都來了,玩得很開心,好像都變回小孩子。大自然果然有令人回春的魔力。
What did the 2016 artists experience on their first weekend in Guandu?
Last Saturday the artists met our volunteers of this year. They are from different backgrounds and have various talents: one is an editor; one is a theater worker and director; one has participated in many art projects held in different countries, and so on. It will be a great chance to learn from each other if they can share their ideas and experiences during the coming art festival.
In the afternoon, the artists and volunteers joined the environmental maintenance work led by the Dept. of Habitat Management. They went into the water after putting on the "frog suit," and helped cutting the grass on artificial floating island, so as to make a habitat favored by birds. Cutting grass looks easy, yet it takes much time with just four staffs since the Park is big. They need some volunteers to help from time to time because the grass grows very quickly. It takes much sensitivity to the changes of seasons as well as body stamina and patience to take good care of a habitat.
The reason why we invite the artists and volunteers of this art festival to join the regular maintenance work is: on the one hand, we find it important to feel nature with bodily sensations; on the other hand, it is great to know the hidden messages in such a natural setting because it helps to understand the relations among different species. Everyone got so excited as they touched the water. It was as if they returned to childhood by just immersing themselves in nature completely. This a absolutely the power of nature.