Janak Jhankar Narzary|生命與自然 Life and Nature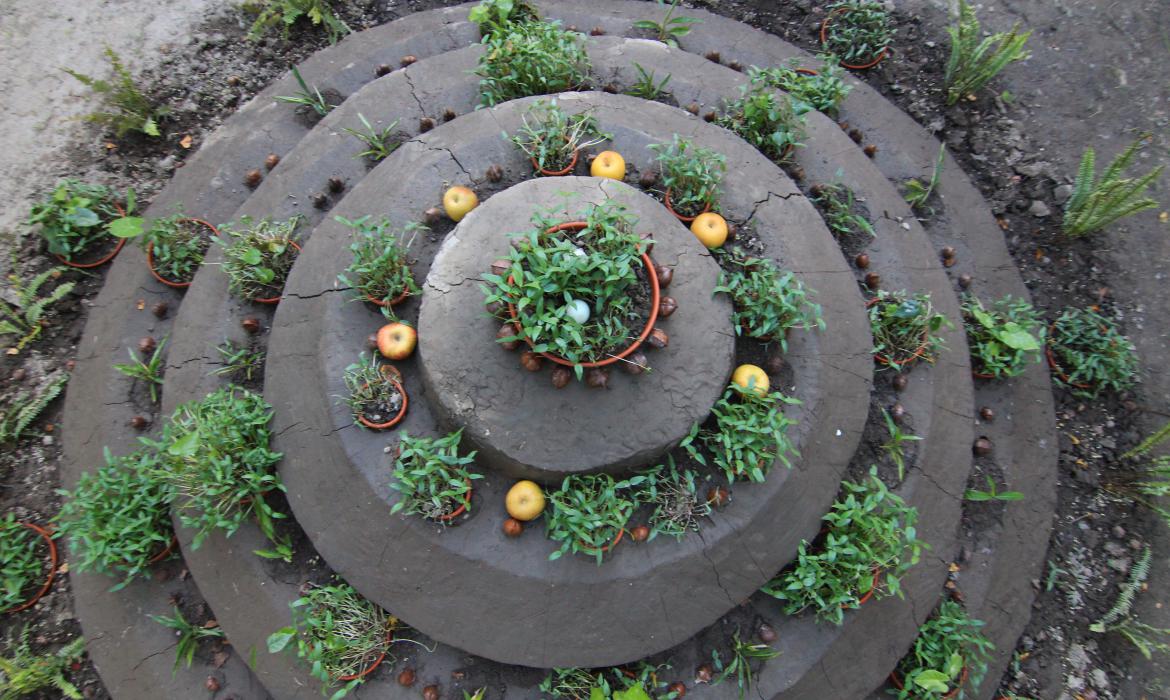 生命與自然 Life and Nature
加納克‧傑罕卡‧納札里 
Janak Jhankar Narzary
印度 India

年份 Year
2013

材料 Materials
泥土、陶碗、各式種子、果實、水、蛋
Soil, earthen bowls, various seeds, fruits, water, eggs

理念 Statement
加納克創作出一個圓碟形狀裝置,底座為土製,並用數個陶碗來裝飾。陶碗內會放入各種種子、樹葉、水、土壤、蛋等材料,並且早晚澆水讓種子發芽與持續生長。此件作品的中心概念要呈現的是「從生命而來的種子,從種子孕育出的生命」這樣的大自然循環模式,也是在五大環境元素:水、火、土、空間與空氣之間的一種形式轉換。他以圓形象徵循環,五層結構代表五種元素,頂層的兩顆蛋象徵一對男女的結合(產生生命),而六顆蘋果則代表人類所擁有的六種情感。

Janak creates an installation in circular shape, which the mount in the center is made of soil and decorated with earthen bowls. The bowls are filled with materials like seeds, fruits, water, soil, eggs, etc. The installation is watered every morning and evening to get the seeds sprouting and growing day by day. The central concept of this artwork is to express the cyclic order of nature: seeds are from life, and life is from seeds. It also presents the transformation taking place in an environmental chemistry of five elements -- water, fire, earth, space and air. The round shape symbolizes the circulation, the five levels mean the five elements, the two eggs are like the combination of male and female (the birth of life), and six apples represent the six emotions human possess.