Ya Chu Kang|搖籃臍 Cradle Umbilical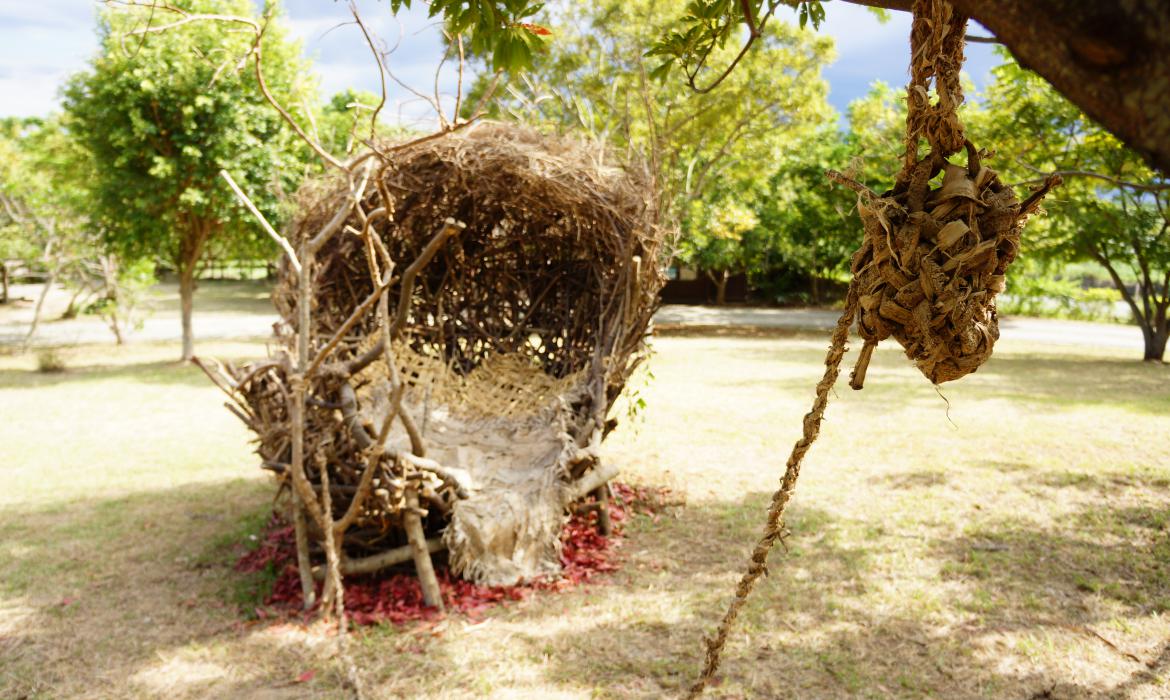 搖籃臍 Cradle Umbilical
康雅筑 
Ya Chu Kang
臺灣 Taiwan

年份 Year
2013

材料 Materials
樹枝、樹皮、蘆葦、藤蔓、草
Branches, barks, reeds, vines, grass

理念 Statement
康雅筑的創作靈感來自關渡所處位置,是一處以淡水河與基隆河為命脈、兩河交會所孕育出的人文與自然環境。她選擇「搖籃」與「臍帶」為主題,並透過「搖籃到搖籃」思考方式完成作品,從自然環境收集材料,最後再回歸到土壤,向大自然學習生生不息的永續精神。《搖籃臍》以樹枝、蘆葦、草、藤蔓等材料編織出一個大型搖籃,並連結一顆樹皮所編織的心臟,象徵生命核心。觀眾可以躺入大型搖籃,試著回憶小時候躺在搖籃裡的感覺,也可感受大自然的擁抱。

Ya-Chu Kang's artwork is inspired by the location of Guandu, where the Tamshui River and Keelung River converge and nurture human culture and natural environment. She chooses "cradle" and "umbilical cord" as her subjects and adopts the idea of "Cradle to Cradle" to accomplish her work, namely collecting materials from nature and then return to earth. The essence of sustainability is what human beings have to learn from nature. "Cradle Umbilical" uses natural materials including branches, barks, reeds, grass, and vines to weave a giant cradle connecting with a "weaving heart" which symbolizes the core of life. The public can lay into the cradle, recall the feeling in childhood and embrace our Mother Nature.