Marek Ranis|漂浮之島 The Floating Land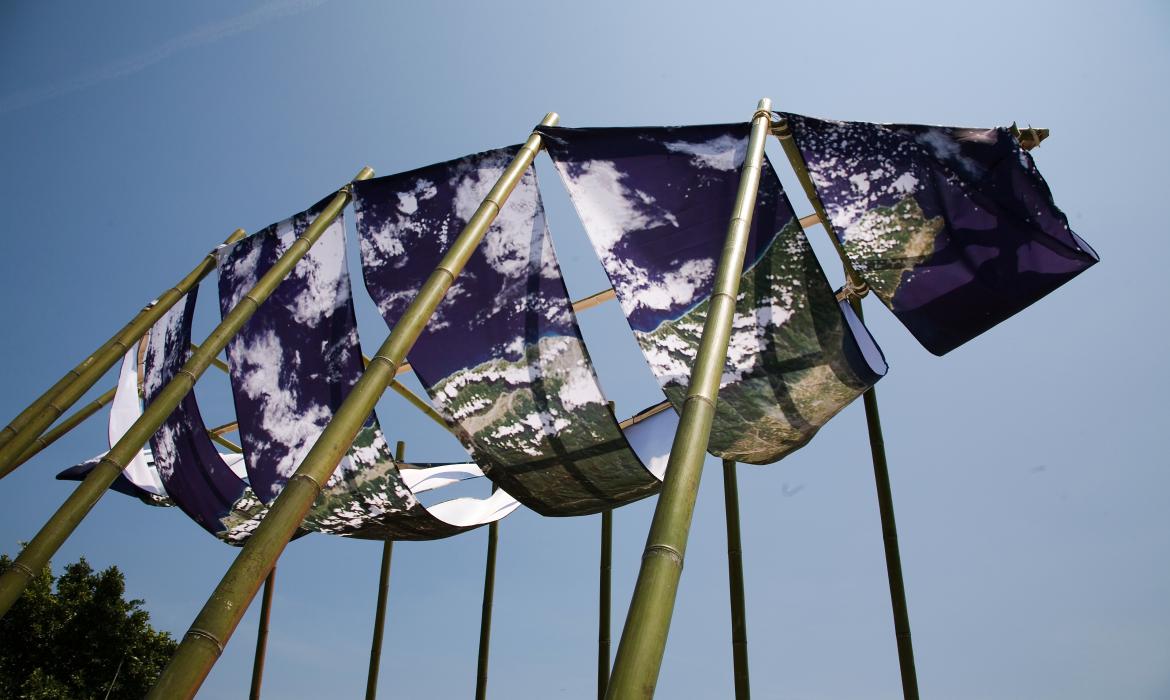 漂浮之島 The Floating Land
馬瑞克‧瑞尼斯 
Marek Ranis
波蘭/美國 Poland/ U.S.A.

年份 Year
2007

材料 Materials
竹子與拼布
Bamboo, fabric panels printed with hot transfer image

理念 Statement
「我對『當下』這個概念很感興趣,以過去和未來透視現在,那種對時間流逝的不安啟發著我。」馬瑞克‧瑞尼斯的作品記錄環境和人類存在的時空改變,透過文化和歷史的透視,看待社會和政治事件。「距離可使我們對現實看得更清楚廣闊,我將自己的作品視為仔細思考現今世代的邀請,有人稱此為悲世情懷,卻能產生對未來的盼望。我不認為藝術可以改變世界,但我確信它可以提升自我對改變能力的認知。」他近期的作品「蒼白」,引發自全球性氣候變遷;「除了氣候變遷本身的嚴重性驅使我專注於這現象,更是因我們無法了解它。也許成因很多,但由歷史來看,重大事件往往只有透過時間的追溯才能一覽究竟。」

位於海島的台灣,在氣候變遷衝擊下顯得相當脆弱,影響可能包括海平面提升、缺水和生態系統破壞;洪水與海岸侵蝕是最直接的危害,然而溼地將是第一個因海水上升而被毀滅的環境。海水上升不只改變關渡的生態,更將打擊全島的經濟與社會。關渡溼地的存在猶如各類環境力量脆弱平衡的支撐點,而這平衡正支持著全島的生活。「漂浮的島」以竹子製成船形,利用拼布裝飾,骨架標記海水上升的高度,並印著看似幻燈片的台灣衛星照片;作品中的拼布將隨風飄動,邀請人們與作品一起產生互動,成為一項針對台灣自然與環境,受氣候變遷影響的探討議題。

I want my art to record changes in the environment and our presence in it.  In my work I look at large social and political events, ecology or geographical and political borders from a larger cultural and historical perspective.  Somehow viewing from a distance allows us to see a fuller or clearer picture of reality.  I see my work as an invitation to contemplate our times and inspiration for a hopeful future; some call this "weltschmerz" (world grief).  I do not believe that art can change the world, although I do believe that it can help raise awareness.  My current body of work was triggered by my interest in global climate change.  What propelled me to focus on this phenomenon, besides the acuteness and extent of related events, is the fact that we seem not to comprehend it.  Perhaps this is due to its enormous scale.  Historically, huge events have been often realized only retrospectively.  Taiwan is very vulnerable to the impacts of global climate change. 

The impacts would include rising sea levels, lack of water resources and destruction of many ecosystems.  The wetlands will be first to be destroyed by such a dramatic rise of sea water, and this will not only change the ecology of Guandu's fresh water marshes, but will also have tremendous economic and social impact on the whole island.  The existence of Guandu's wetlands can be used as symbol of the fragile balance between various environmental forces.  This balance is supporting life on the Island.  "The Floating Land" is a large wooden/ bamboo structure shaped like a boat with fabric panels hanging from the frame.  The frame of the boat is supported by poles marked with rising water levels.  The fabric will be covered by a large hot transfer print of a satellite image of the island of Taiwan.  The print seen from the side and underneath will look like a large transparency or slide.  The fabric will gently move with the wind inviting the audience to interact with the piece and perhaps initiating discussion about the impact of climate change on the natural and human environment of Taiwan.