Yumiko Yamazaki|水上植物之家 Plants Project on the Water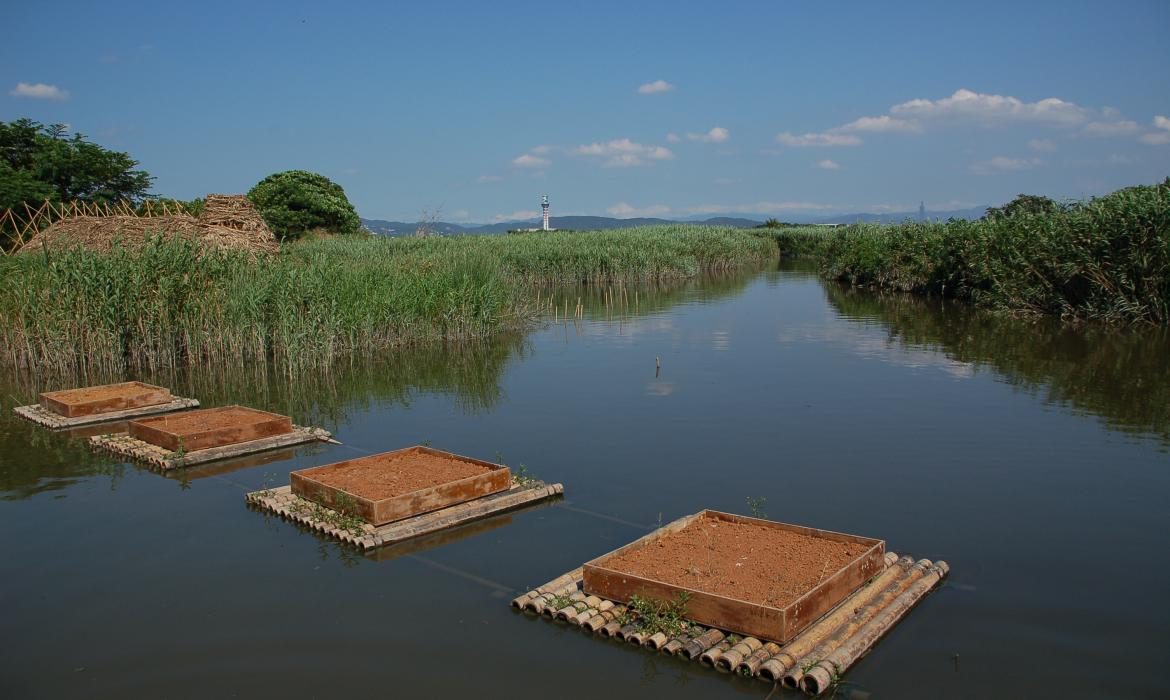 水上植物之家 Plants Project on the Water
山崎由美子 
Yumiko Yamazaki
日本 Japan

年份 Year
2006

材料 Materials
土壤、竹子、麻繩
Soil, bamboo, hemp rope

理念 Statement
關渡自然公園中,時間的流逝與大自然的力量是創作這個作品重要的元素。風、鳥、大自然發生的一切…都將植物的種子帶到這些土壤上來。等到這些植物發芽、成長,我將會收集這些植物,將他們融入我自製的手抄紙中,以這個方式保存我在這段特別的時間、這個特別的地方所創作的一切回憶。或許,鳥會到浮板上停棲,或許,他們會在這兒搭建一個隱密的棲所,或許,他們會在這個裝置上製造出種種令人驚奇的改變。大自然融入了我的作品,而我的作品則因自然環境而改變,也因自然而大功告成。

The passage of time and the power of nature over this particular place at Guandu Nature Park make the most important elements of this work. I will install 4 boxes with soil in them on the water of the pond. For the period of this exhibition, wind, birds and natural happenings will bring seeds of plants to this soil. And, I will wait for a plant to sprout there. At the end of the exhibition, I will collect those plants in the boxes, and I will put those plants in the handmade paper I make to preserve the memory of this moment of time in this special place.  Probably, birds will come to the rafts and have a rest because being on the water is a safe place for birds; maybe they will make hideouts there. I suppose that birds will have various influences on this project. The environment and nature enter my work, and it is changed and completed by nature.
藝術家 Artist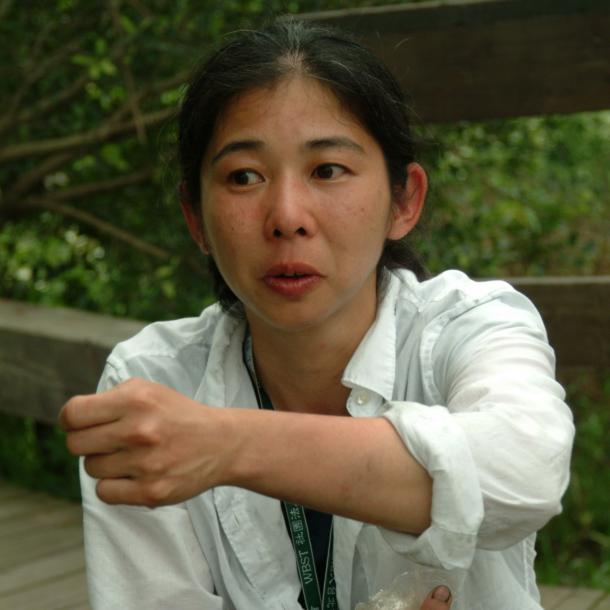 山崎由美子
山崎由美子來自日本大阪,曾於日本、美國及歐洲創作裝置藝術,並且剛結束丹麥的駐地藝術家工作,山崎由美子在當地舉辦展覽、開設工作坊,傳授裝置藝術。山崎由美子在大阪職業學校開設藝術課程,曾經於1999年擔任日本美濃紙藝術村的駐地藝術家。山崎由美子最近在大阪的城市空間進行一個「空氣中的植物」計畫。她在大阪的辦公大樓屋頂上,安置了一些裝有土的盒子,等待著城市裡空氣中的種子們在那裡發芽。這個計畫一直持續到2006年,並且將類似的構想帶到了關渡的水上,這不僅是她的第一件水上創作,是他在台灣的第一個裝置藝術品。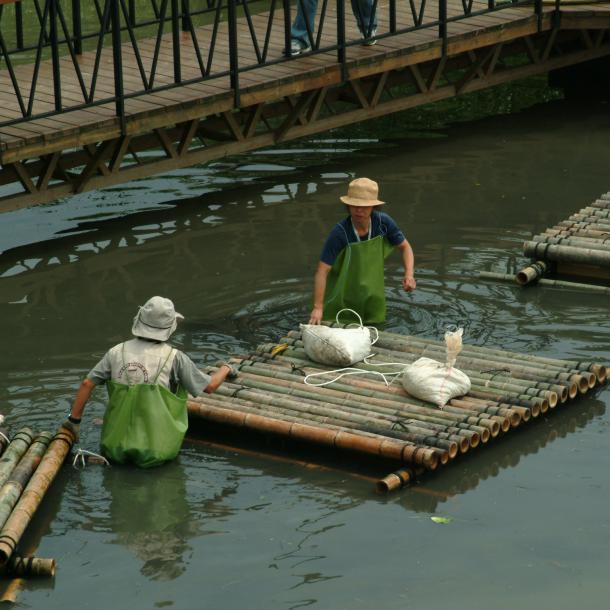 Yumiko Yamazaki
Yumiko Yamazaki of Osaka, Japan, has created her installation art projects in Japan, the United States and Europe. Yumiko has just returned from being an artist in residence in Denmark to make an exhibition and teach a workshop on her techniques of installation art.  Yumiko also teaches art classes at a vocational school in Osaka and has been an artist in residence at the Mino Paper Art Village Project, Mino City, Japan in 1999. Yumiko is currently doing "Plants Project in the Air" at an urban space in Osaka.  She installed boxes with soil on the roof top of some large office buildings in Osaka, and is waiting for seeds in the air of the urban space to come and sprout there.  This project is continued until 2006 and install on the water in Guandu.  This ise Yumiko's first installation in Taiwan and also the first project she has done on the water.
作品 Artworks