Posted on 16 Jun 2022
Call for Artists 2022
Guandu Nature Park calls for three artists with a focus on the human-nature relationship to participate in the 2022 Guandu International Nature Art Festival entitled "Healing, A Methodology." Submission deadline is July 30th, 2022. Selected artists will spend around four weeks as artists-in-residence in Guandu Nature Park and use natural or environmentally friendly materials to create artworks onsite that can convey environmental messages and raise awareness.
Eligibility requirements update due to COVID-19
In response to COVID-19 and to comply with entry management and pandemic prevention measures, we have additional information and regulation updates on the Open Call eligibility requirements. The Open Call this year will only accept Local Artists (with ROC Nationality) and Foreign Artists who reside in Taiwan (with Alien Resident Certificate or Alien Permanent Resident Certificate).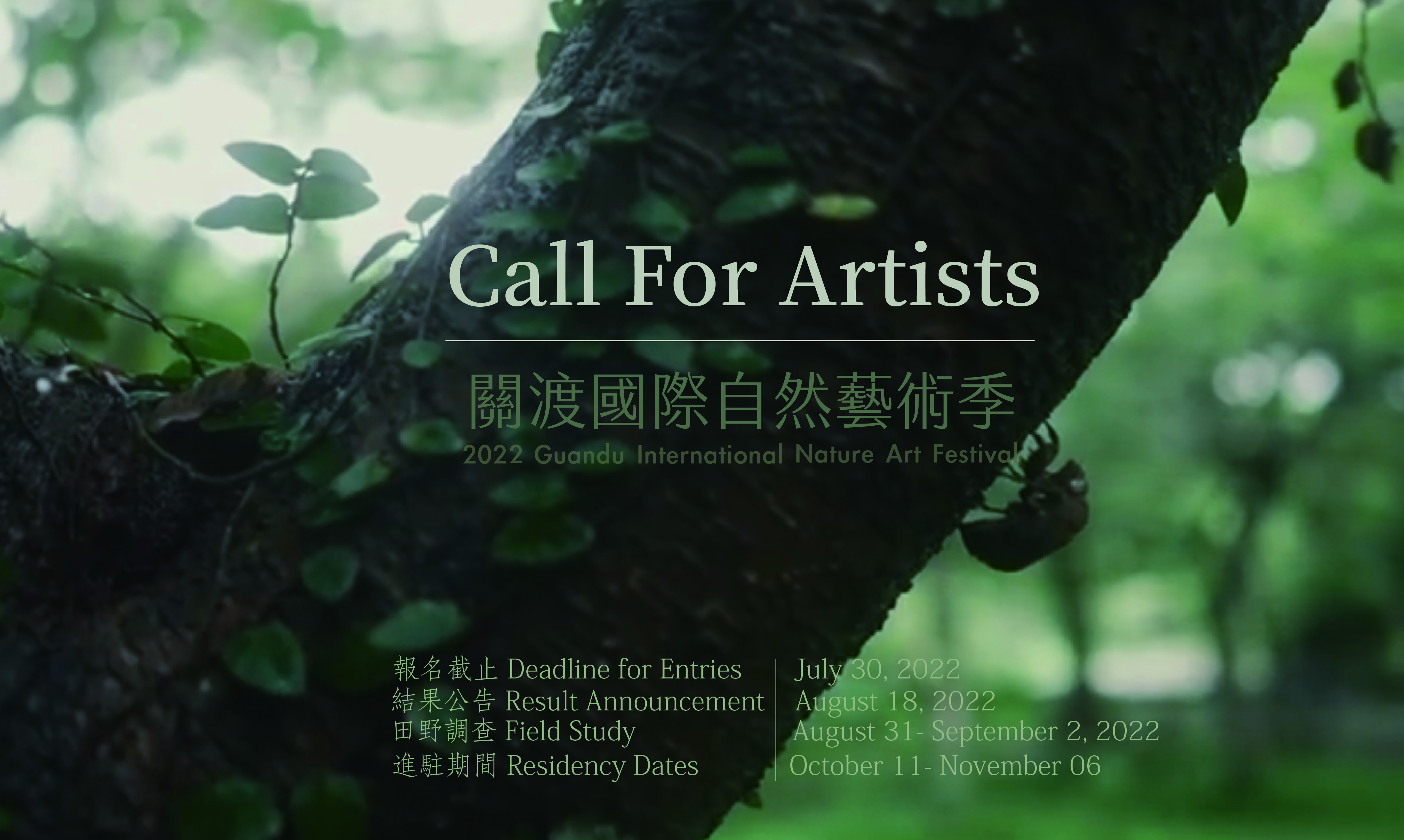 Theme: Healing, A Methodology
             -Post Pandemic Era Ecological Creative Works
Exhibition Structure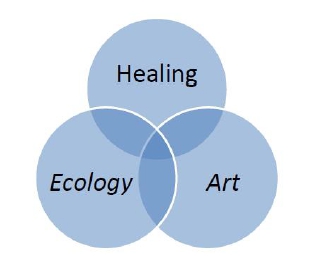 Keywords: healing, post-pandemic era, anthropocene, ecological art, ecological psychology
Post-pandemic Era and Anthropocene
In late 2019, the world was hit by the COVID-19 pandemic, coupled with the extreme weather events due to global warming, we have seen frequent occurrences of changes in international political and economic situations, natural disasters, disease outbreaks, ecological imbalances and other conditions. Therefore, rethinking and redefining the various aspects of the human-nature relationship and the imbalance between the mind and the body have become the most important topics in the post-pandemic era. Reportedly, the new coronavirus was transmitted to humans through an intermediate animal host – bats. The viruses that originally existed in the natural environment were spread globally through human activities. "Anthropocene" is a geological concept proposed in 2000 by Paul J. Crutzen, a Dutch atmospheric chemist who won the Nobel Prize in 1995. He believes that human activity's impact on the planet is significant enough to form a new geologic epoch. It is a perfect term that sums up the numerous environmental predicaments we face today: global warming, extreme weather, air pollution, decline of ecological and biological diversity and so on. And the global pandemic brought by the new coronavirus (COVID-19) is only a small example of the result of those changes. It further makes prominent the fact that "nature" is the only foundation of all human activities and the importance of various interactive relationships.
Environmental Art and Healing
Finding ways to face the changing situation and use art to present the issue and reconnect and balance our relationship with nature is the focus of many environmental art practices. In the post-pandemic era, people in all fields are encouraged to 'go to nature' as a 'healing' measure. On the one hand, one can reconnect with nature and be relieved from the impact of interpersonal isolation due to the pandemic. This kind of contact with natural ecology and its effect on human psychology has led to many studies and attempts in ecological psychology. On the other, in addition to responding to the critical perspective of contemporary social and environmental changes, environmental art can also act as a medium for interacting with nature. Because art is not only the production of various forms and sensibilities of aesthetic feelings, from the perspective of the viewer, it is also an experimental and interactive experience. Hence, what we need is a concept that is closely integrated with ecology from the viewpoints of 'going to nature' and 'healing.' It is also to think about how human beings connect with sensibility through the environment, and to reflect on the possibility of 'healing' through artistic expressions and establishing a connection with nature. For this reason, utilizing art's sensitive means to connect human with natural ecology and in this way reexperience the healing nature of natural environments through art is the main direction of this exhibition.
Open Call: Healing, A Methodology

Guandu Nature Park was officially founded in 2001. The motivation and reason behind its establishment can be seen as a healing mechanism for man and ecology. The organization of "Guandu International Nature Art Festival" starting 2006 also serves as an appeal for ecological equilibrium. Given the multiple challenges and changes due to the pandemic since 2019, we have set "healing" as this year's main theme for the Guandu International Nature Art Festival. Entering into its 17th year, the subject of "healing" is in itself a functional appeal. The art creation is like an invitation from nature. Through the open call and invitations for artists, the Festival will think about in Anthropocene and post-pandemic era, how we lead the audience to go to nature through the combination of art and natural ecology, and experience the possibility of healing between art and nature. Let us undertake a walk to the "wilderness" and find the "healing."
Creative Goal
The creative form is not limited. It can be cross-disciplinary contemporary art, visual art, installation art and so on. The use of natural materials is given priority to the media. The creative process must comply with the principle of being environmentally friendly. The creative works should be able to convey the values of habitat construction and bio diversity, ecology around Guandu, interactive connection between birds and humans, thereby raising awareness of ecological conservation.
Timetable
Field Study Period

Aug. 31

Venue tour

Sep. 01

Field study

Sep. 02

Art Proposal Discussion

Residence Period

Oct. 10

Artists Hotel check-in

Oct. 11-Nov. 04

Period of installation

Nov. 05,Nov. 6

Opening Art Festival

Nov. 07

Artists depart

Exhibition Period

Nov. 05-Dec. 31

End of the artwork exhibition
Off days (Mondays): Oct.17、Oct.24、Oct.31
Any change to the current timetable will be made in accordance with notifications from the organizer, and will be announced on the official
​Contact
1) Email: festival@gd-park.org.tw
2) Phone: +886-2-28587417 ext. 230 (Ms. Evonne Yeh)

●    Website  http://www.guandu-natureart.tw/
●    Facebook  https://www.facebook.com/GuanduNatureArtFest/
●    Youtube https://goo.gl/K5S3uE
●    Online Catalog https://goo.gl/H4yqcj