Elaine Clocherty|潮之豐饒角 Tidal Cornucopia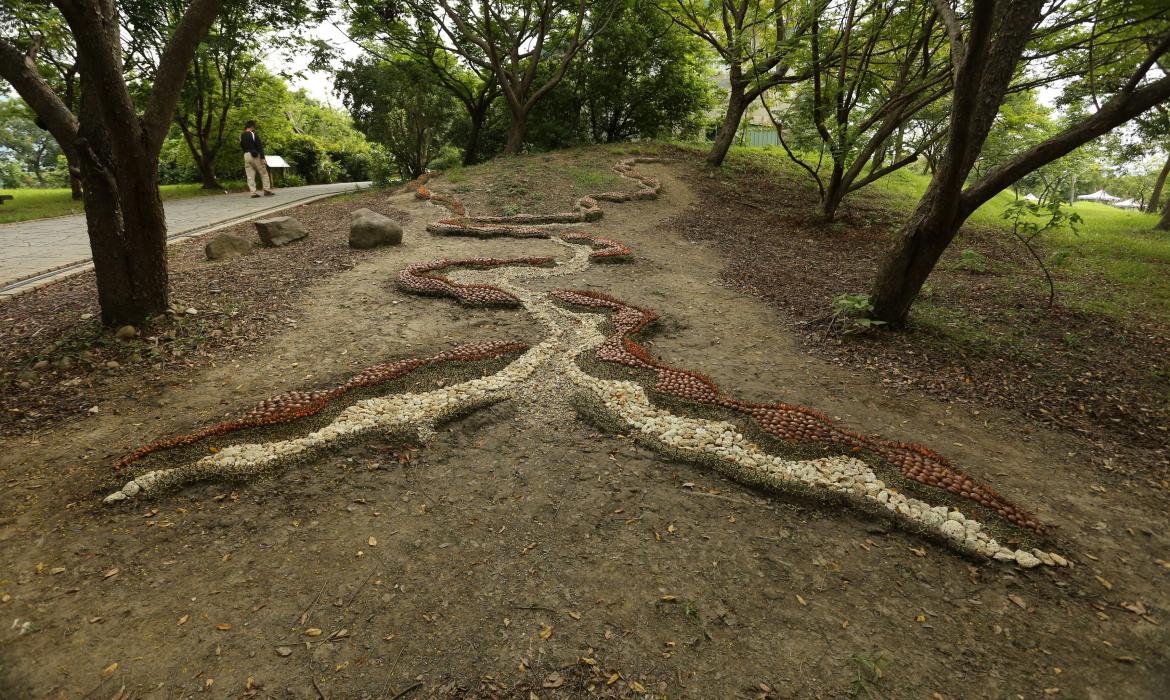 Tidal Cornucopia 潮之豐饒角
伊蓮.克洛赫堤
Elaine Clocherty
澳大利亞 Australia

年份 Year
2015

材料 Material
泥土、現地自然素材
Mud, on-site natural materials

設置位置 Location
步道旁斜坡

理念 Statement
藝術家提案時受兩篇報導啟發,一是關於臺灣東北「海女」採集石花菜,另一篇談重金屬污染被水筆仔吸收累積、進而影響食物鏈中如招潮蟹等生物。兩則故事都與水所支撐的食物供給有關。本作品將兩種植物意象混合排列象徵河海交會,藉此詮釋淡水河系的感潮屬性,以及當今水資源面臨高濃度毒性物質累積的危機。並探討河川系統深受毒害的現況,同時彰顯原本河水猶如豐饒之角般蘊含的多樣性與食物供給量,期望引發人們為恢復如此盛況展開行動。伊蓮身為特定場域藝術家,創作實踐受過程所引導,並從了解在地歷史與生態展開。雖在提案時受臺灣人民運用海草的故事啟發,但抵台季節可採集的海草較少,於是她轉而關注珊瑚流失與保育的議題。作品中使用的珊瑚不僅象徵海洋的潮水,也代表當地居民為了守護如此美麗景緻所付出的努力。在認識臺灣原住民過程,她發現菱形紋常用於象徵祖靈,今年藝術季創作期又剛好落在華人的鬼月,也是另一種文化表達對鬼神敬畏的祭典。種種故事讓她聯想,倘若凱達格蘭祖靈得知這片他們當初生活環境如今遭遇到的破壞會有多難過,於是《潮之豐饒角》最終希望能結合當代與遠古,創造一種與當地連結的新關係。

Artist was inspired by an article about 'sea women' who would harvest the gelidium seaweed during low fishing season and a second article explaining how the heavy metals are being absorbed, accumulated in Kandelia obovata and further transferred to the food chain through deposit feeders such as the local fiddler crabs. Both stories relate to the water systems and their capacity to provide food. The work uses the properties of K. obovata from the Guandu wetland and gelidium seaweed from the sea to represent the mixing of the river and sea waters and to explore the tidal aspects of the Tamsui river system. It highlights both the reality of the toxicity of the river system as well as the rivers' beauty, diversity and capacity to become a healthy food cornucopia again.

As a Site Specific Artist, Clocherty's practice is process driven. She begins by investigating the history and ecological stories of the landscape. When collecting seaweed she found little there (compared to Australia), as it is actively used by the Taiwanese people. Clocherty was then led to the issue of coral loss along the coast and efforts to regrow it. The coral in the work represents the ocean's tides but also the efforts being made by local people as they utilise science and technology while caring for this beautiful landscape. Whilst investigating the aboriginal people of Taiwan she discovered the importance of the diamond shape and as the opening of the Guandu Festival is during the 'Month of Ghosts' the work aims to make an offering to the ancient spirits where the river and ocean meet who may be unhappy with the present state of the environment and the ancestors of the Ketalagan people. The overall hope of the work is to combine contemporary and ancient, and create new ways of relating to this place.
創作花絮 Behind the Scenes