Ya-Chu Kang|地衣織程 Earthy Weaving Undertaking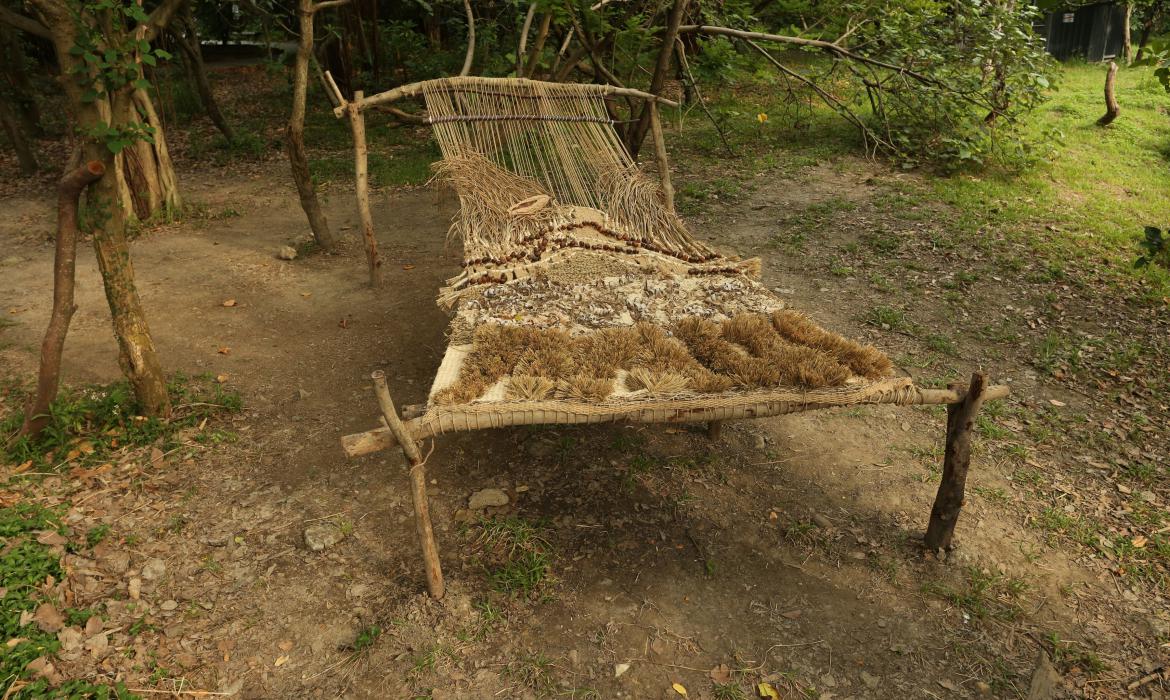 地衣織程 Earthy Weaving Undertaking
康雅筑
Ya-Chu Kang 
臺灣 Taiwan

年份 Year
2015

材料 Materials
樹枝、樹皮纖維、麻繩、籐、蘆葦等自然材質
Branches, tree bark, hemp rope, rattan, reed, etc.

設置地點 Location
關渡自然公園海岸林區
Coastal Forest, Main Area of Guandu Nature Park

理念 Statement
靈感來自於「感潮」的同音異義「趕潮(流)」,藉由一織布中的織機呈現衣物纖維與環境的關係,探討現代社會裡人們追求時尚流行的狀態,以及在商業運作與快速消費模式下,其生產線的背後隱藏的嚴重勞工與環境問題。當購買一件便宜衣物的同時,是否想過衣物生產製作過程中有多少血汗滴在這一絲一縷的纖維中?這些付諸勞力的工作者是否得到平等與安全環境的待遇?這些經過染漂洗滌的過程使用了多少重金屬藥劑在其中?危害人體與環境的廢水是否有受到妥善的濾靜?還是從工廠直接流入河川污染了海洋?

作品以自然的樹來架構織機呈現傳統文化裡人與環境互依的狀態,織機上以麻繩為經線,以關渡自然公園內的各式植物纖維為緯線,交織出一幅幾何地景。引自東方傳統織繡中的海水江崖紋樣,藉由海的曲線、翻滾的海浪、挺立的岩石來寓意福山壽海,藉此述說人類與自然共生共存的價值與珍貴,以及日常生活與織物文化的關係,並傳遞關於潮汐、呼吸、循環與自然生息永續的精神概念,亦呼應藝術季的主題感潮。

Inspired by the homophones in Mandarin of the Festival theme 感潮 (gǎn cháo) and 趕潮流(gǎn cháo liú; means follow the crowd), Earthy Weaving Undertaking aims to explore the current condition of the fashion industry and reveal the serious social and environmental problems beneath it. Have you ever thought of the true cost when purchasing a trendy piece with low prices? Ethical issues like labor exploitation, heavy metal contamination, waste water dumping are actually intertwined with these fast fashion products. 

A loom is installed among woods to represent the interdependence between human and environment in traditional culture. Hemp ropes are used to warp the loom and natural fibers found in Guandu Nature Park are woven on it to create a "sea and mountain pattern" in traditional Chinese weaving and embroidery. The rolling waves and straight up cliff symbolizes the good fortune and longevity, which reminds us of the value of our coexistence with nature and embodies the sustainable spirit of the Festival.
藝術家 Artist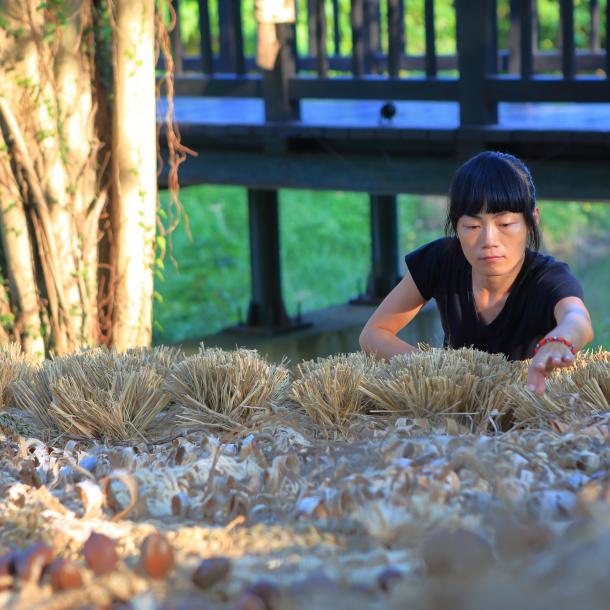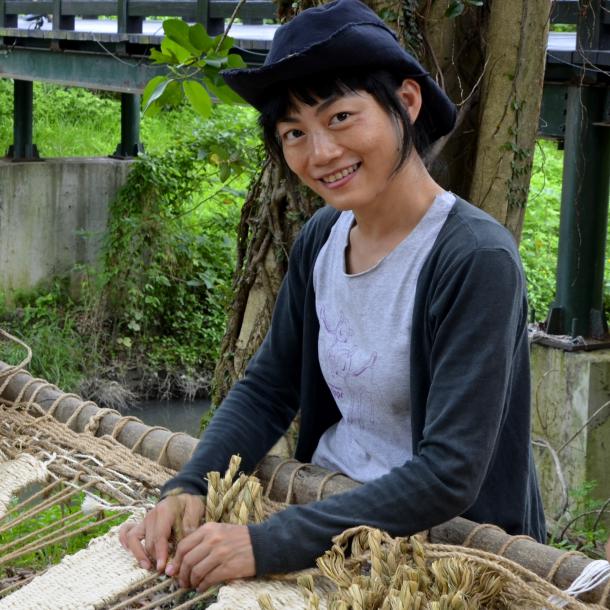 Ya-Chu Kang
Ya-chu Kang is a Taipei based artist whose work explores issues of identity, the relationship between human and natural and the social environment message through mix-media sculpture, site-specific installation, textile, video, drawing, photographs and collaboration. Having trained in various sculpture and textile based disciplines, the works range from large site-specific installations to small interdisciplinary sculptures and 2D works.
Described as "simulation objects" the work eliminates the boundary between usable items and sculpture — the functional and the aesthetic. The materials themselves have nostalgic senses and original meaning perhaps hidden from their symbolism. The relationships between environment and human bodies, life and death, as well as personal reactions to exteriors often articulated through textile process. Those process embracing accidents, mutations, and accretions of surface and detail with time; accepting nature to have its way with unstable mediums, including plant, sun, salt, and water; and intensive collaboration with other fields and artists.
作品 Artworks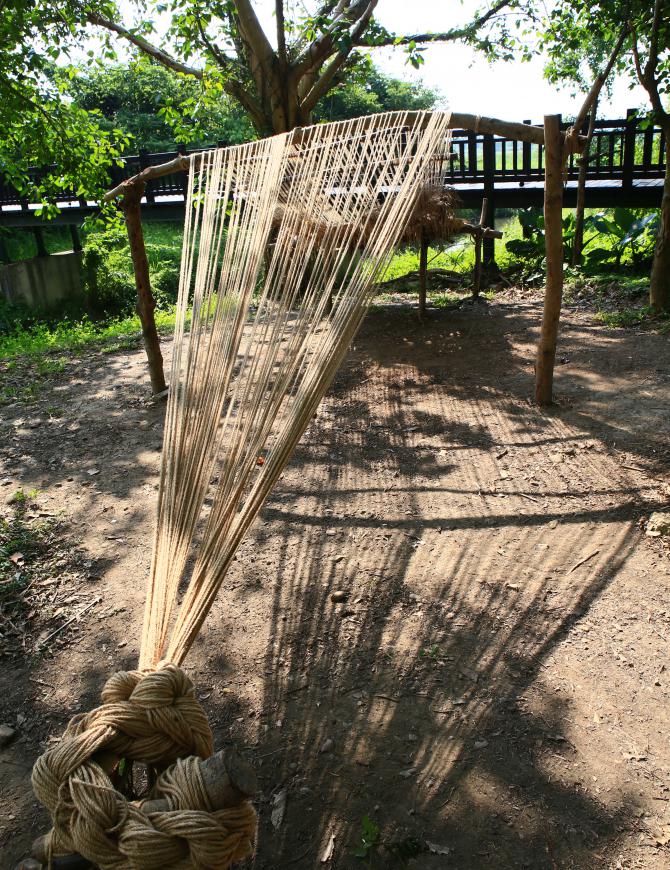 創作花絮 Behind the Scenes