Kathy Bruce|潮汐寶石 Tide Jewels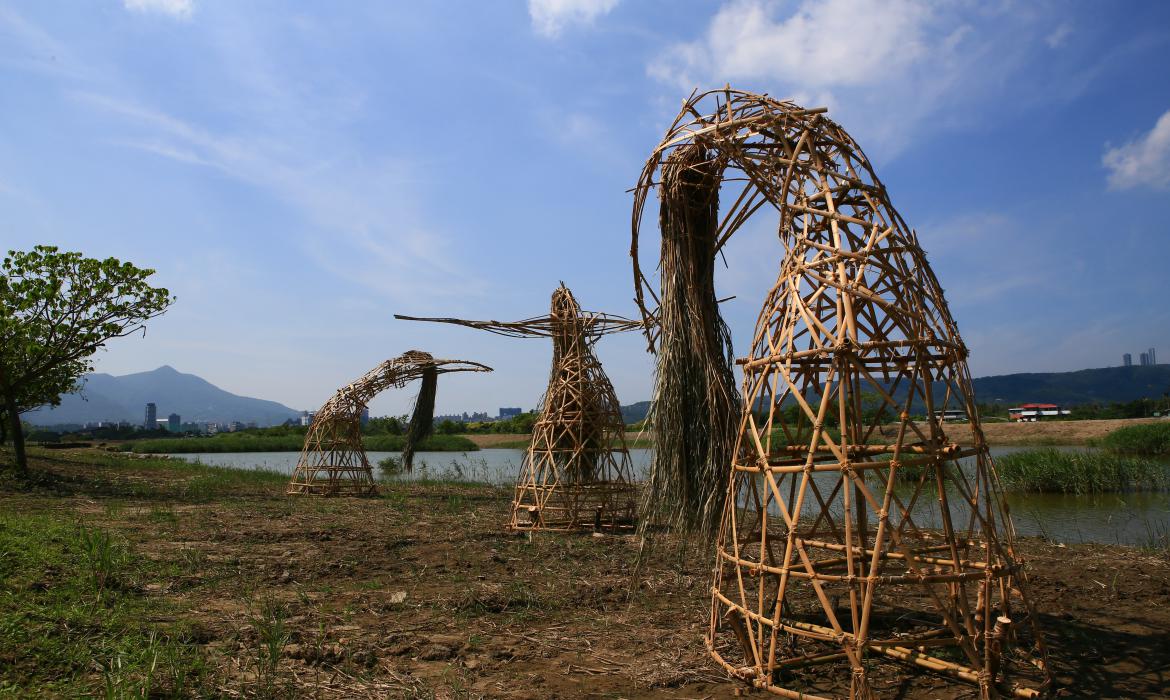 潮汐寶石 Tide Jewels
凱西‧布魯斯
Kathy Bruce
美國 U.S.A.

年份 Year
2015

材料 Materials
竹、樹枝以及其他現地自然素材
Bamboo, branches, on-site natural organic materials

設置位置 Location
社子島濕地
Shezidao Wetland

理念 Statement
自古以來,月亮、潮汐與女性身體之間的關聯在許多文化的神話中具有一席之地。如同關渡與社子這兩處感潮濕地受到潮汐漲退的影響,人類生理與心理循環其實也與這些力量息息相關。「科學研究發現月與潮汐和我們身體的電磁場互相作用」,當代社會卻幾乎忽略這層人體與自然之間的關係。

作品打造一組三座的女性形體雕塑,象徵潮起潮落。每件雕塑會以圖騰般的籃狀結構相連,編織的裙身代表著流水,同時也象徵著有野生動物的棲息地與庇護所。〈潮汐寶石〉期望能激發大眾關注與保護我們所處的河流。此外,對於潮汐與生理及情緒具有關聯的體認,將有助於理解這股我們也身處其中的大自然循環。

From ancient times, the moon and its relationship to tides and the female body have played a significant role in the mythology of the landscape in many cultures. Our creative biological and psychological cycle parallels the phases of the moon and tides the same way that the tidal wetlands in Guandu and Shezi are influenced by the tidal cycle. "Scientific evidence suggests that biological cycles as well as dreams and emotional rhythms are keyed into the moon and tides as well as the planets. Specifically, the moon and tides interact with the electromagnetic fields of our bodies, subsequently affecting our internal physiological processes." Contemporary society is often unaware of these parallels between nature and our own human bodies.

A set of three interconnected female figures is built to represent the ebb and flow of the tides. Each forms a totemic basket type structure interconnected by their flowing woven skirts representing the flow of the tidal waters that will also act as shelter/habitat for wildlife. Tidal Jewels symbolizes the global call for the public to look outward beyond our location to conserve and protect our rivers and parks. Secondly, by considering the human connection between tides and human emotions, we can understand the natural life cycle process of which we are all a part.