Yu Mei He|關渡之心 Guandu Heart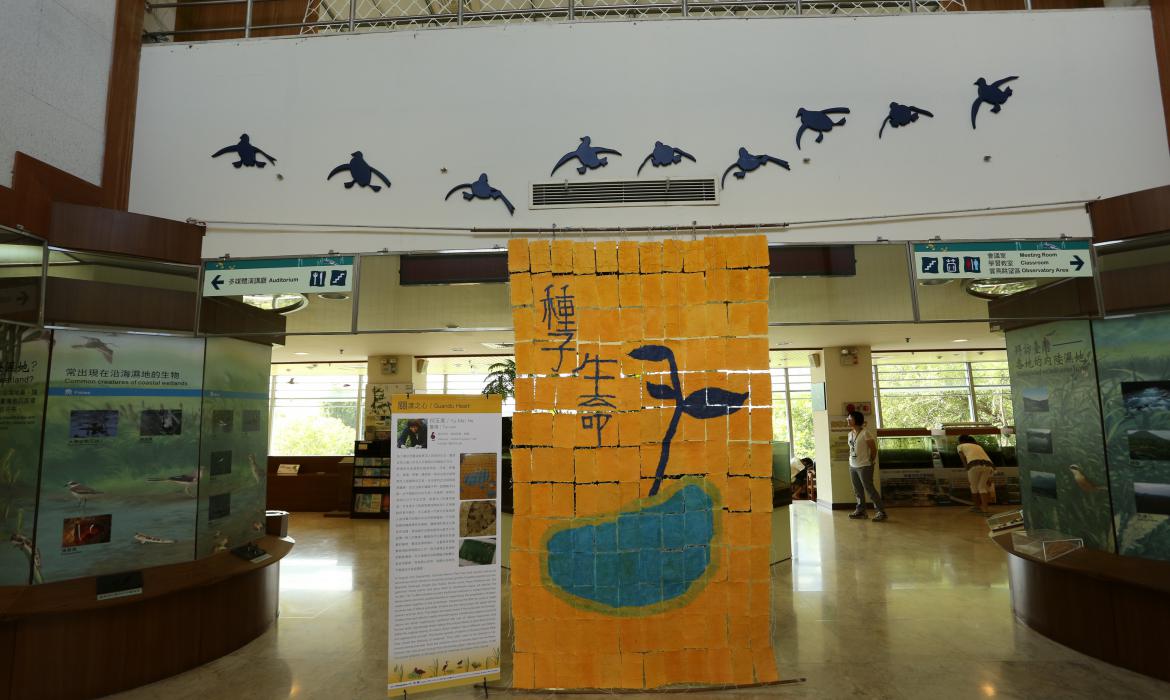 關渡之心 Guandu Heart
何玉美
Yu Mei He
臺灣 Taiwan

年份 Year
2013

材料 Materials
濕地草類、棉繩
Wetland grasses, rope

理念 Statement
「叩叩自然」2013自然藝術工作坊
為了讓自然藝術能更深入民眾的生活,關渡自然公園八月及九月辦理自然藝術工作坊,將濕地生長過剩的植物例如:月桃、野薑花、葛藤、荷葉、構樹等,採收之後交給植物手工紙藝師何玉美。何玉美用古法抽取植物纖維,並在活動中讓親子們一起體驗手抄紙。水中撈紙的功夫可是一大學問,紙漿太多時凹凸不平且太厚,紙漿太少則會有破洞,可見得手工紙是需要時間與用心才能練就的拿手絕活。手工紙是一門將天然資源與人為技藝巧妙融合的自然美學藝術。不但保有植物纖維獨有的痕跡,讓植物的原生之美自然流露,每張創作也都能展現出截然不同且獨一無二的樣貌。關渡自然公園內生長過剩的植物,會造成濕地陸化,在夏季常常需要做清除與移除的工作,現在植物生長過剩的剩餘價值,可以透過手抄紙體驗活動轉化為自然藝術。材料取之自然,回歸大地時也不會造成污染或傷害。
何玉美也特別為今年的藝術季,創作一座以手抄紙為材料的作品,成為亮眼的主視覺意象。

Natural Art Workshop
In August and September, Guandu Nature Park has held several nature art workshops which aimed to reuse the excess growth of wetland plants such as: Beautiful Galangal, Ginger Lily, Kudzu, Hindu Lotus, Paper Mulberry etc. We gathered these plants and gave them to handmade paper art teacher He Yu-Mei. He Yu-Mei adopted ancient traditional methods to extract fibers from these plants and then guided families to experience the preparation of handmade paper together in the workshops. Screening the fiber by using a mesh involves lots of efforts and skills. If there are too many pulps, the paper will be uneven and too thick. The paper will easily break if the pulps are not enough. It takes time and effort to master the techniques. Handmade paper is a kind of nature art which ingeniously combines the use of natural resources and human skills. Handmade sheet retains the unique traces of plant fiber and exhibits the original beauty of nature. Each creation has a different and distinctive appearance as well. The excess growth of plants in Guandu Nature Park may cause the draining of wetlands. They often need to be cleared or removed during summer. Now the residual value of excess plant can be transformed into natural art through the handmade paper making activities. It will not cause pollution or damage since all materials are taken from nature.