Yi Chun Lo|風之翼 The Wings of the Wind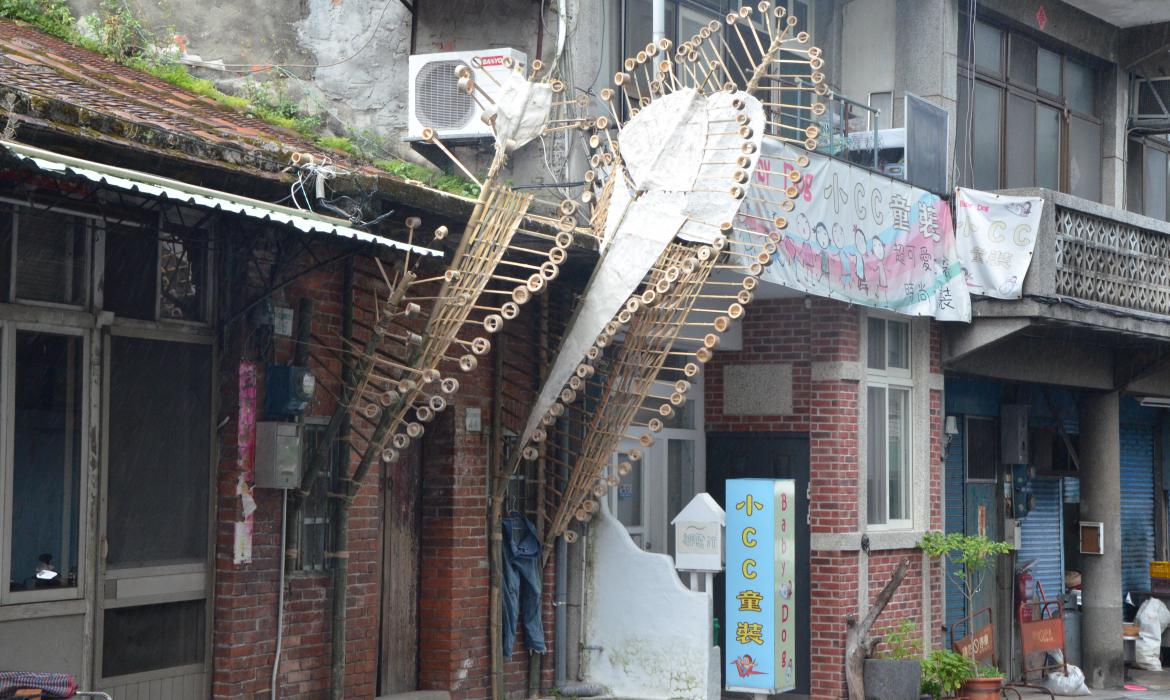 風之翼 The Wings of the Wind
羅懿君
Yi Chun Lo
臺灣 Taiwan

年份 Year
2012

材料 Materials
竹子、手抄紙、桐油、麻繩
Bamboo, Handmade paper pulp, Tung oil, Rope

理念 Statement
我將運用關渡自然公園內的植物,為人、候鳥與關渡社區打造一個自然的盛宴。我將集合鳥羽的意象,現地製作一片片大型的羽翼。這些羽翼將以竹子為素材、分段的竹節串連為軸心,並藉由自然動力旋轉。它們將裝置在老房屋的正面,當風吹撫過這些羽翼時,軸心上根根相連的竹枝將依序轉動,從遠處觀看,像一片片在屋頂上旋轉飛舞的羽翼;在有陽光的日子裡,它將與地面上的影子相連成一雙雙翅膀,在日照與風吹下優雅地旋轉。

這件"風之翼"以羽毛象徵候鳥來到關渡社區,羽翼將在風吹下緩慢的轉動,這個裝置將不會破壞房屋原本的結構,並能藉由此季節中的各種自然動能,凸顯環境、候鳥和人類的連結。竹材也會隨著時間回歸自然,觀賞者將在羽翼旋轉的過程中看見社區中的活力。

I plan to hold a natural party for the people, migratory birds and Guandu community with plants collected from Guandu Nature Park. I will gather images of feathers and make pieces of huge wings that will be installed in the local community. The wings are made of segmented bamboo that will be connected to the main bamboo axis and spins with natural power. They will be fixed in front of the old house. When the wind blows, each connected bamboo sticks will spin in order. You will see the wings flying like dancing on the rooftop from far away. In a certain angle of the sunshine, these feathers cast a shadow on the ground that links up like a pair of wings and spin gracefully with the blowing wind.

"The Wings of the Wind" uses feathers to symbolize that migratory birds fly to the Guandu community. The wings will spin slowly when the wind blows. The viewers can find vitality in the community seeing the process of the spinning wings. The installation will not harm the original structure of the house. Besides, this work that uses this season's natural power will highlight the linkage between the environment, migratory birds and human beings. As time flies by, the bamboo and other materials will slowly go back to nature.