Ashish Ghosh|地球的警訊 Warning of the Globe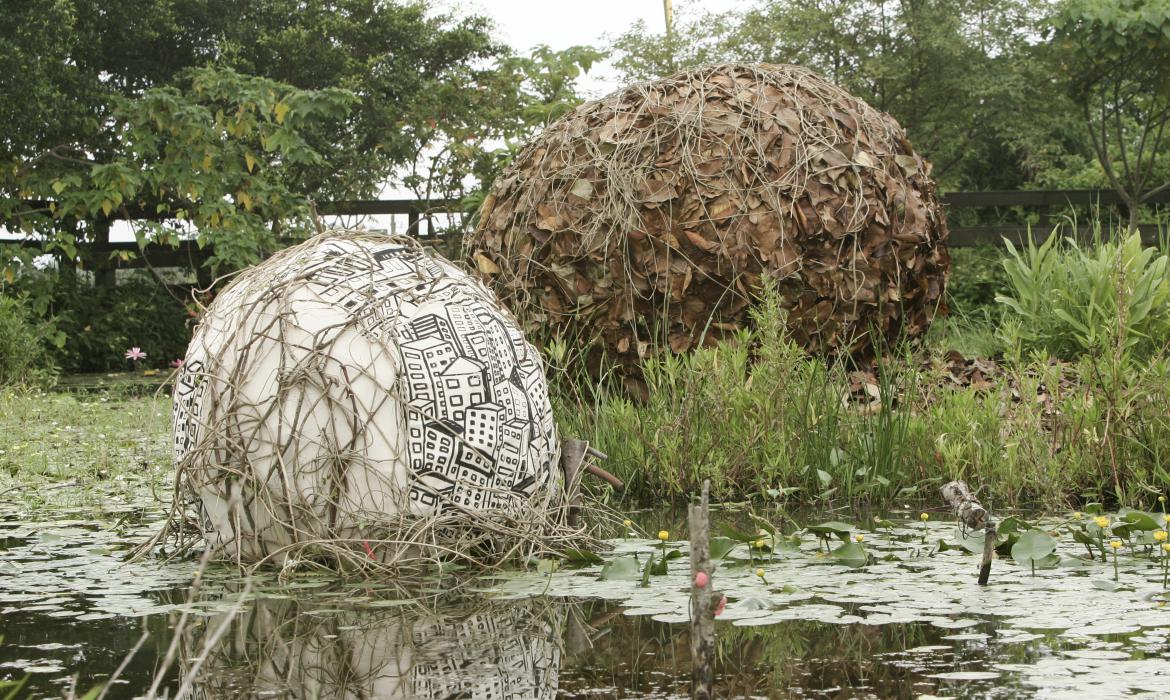 地球的警訊 Warning of the Globe
阿詩士‧高許
Ashish Ghosh
印度 India

年份 Year
2009

材料 Materials
天然植物、竹子、線、棉布
Natural vegetation, bamboo, wire, cotton cloth

理念 Statement
高許過去十多年來主要的創造都是大型的戶外藝術裝置,主要的訴求是強調文化與大自然的關係,所以作品都是與環境有關的議題為主,同時是以在地的地理,文化,及社會的架構來進行一場文化的新體驗。曾參與過北京國際美術雙年展及2008奧林匹克美術大會。

2008奧林匹克美術大會是國際奧林匹克委員會主辦的國際藝術活動,他在美國擔任駐村藝術家期間,他的裝置藝術在 2007年康乃迪克州的I公園展示。

他在2006和2007間在義大利拿波里斯國際當代藝術館百大藝術家及(發現印度),同時他於2004也參加希臘雅典的國際視覺藝術大賽。2002年他的雕塑品「寂寞的地球」陳列於奧地利,2004年他在賽浦路斯的尼古西尼參加諾曼第慶典,他的大作「輝煌」也在義大利(Musco internazionale delle Cer amiche Faenze)展示,2000年他參加奧地利維也納的藝術森林---二和立陶宛維爾紐斯的露天博物館。他也榮獲印度政府多樣的補助獎勵金,2008年他榮獲印度藝術協會印度棲地中心傑出新藝術家獎。他出生於印度西孟加拉,於2001年取得Vusva-Bharati 大學美術碩士學位主修雕塑,目前任教於該所大學藝術科。此行是第一次訪問台灣,妻子也與他同行,協助裝置藝術的創作。

Ashish Ghosh's primary work for the last decade has been large-scale, site- specific environmental sculpture installations. Ghosh focuses on the relationship of nature to culture, creating work based on environmental issues, as well as cultural experimental forms based on the geological, cultural, and social structure of each site.

His most recent outdoor sculpture was "The Nest" permanently installed at Beijing Olympic Park in Beijing, China.  He participated in the Beijing International Art  Biennale of 2008, Olympic Fine Arts 2008.  Olympic Fine Arts 2008 is an international art event organized by the International Olympic Committee. His outdoor sculpture was also installed at I-Park, in Connecticut, in 2007, during an artist in residency in America.  Ghosh took part in "Hundred Artists for the Museum" and  "India Revealed" at the Casoria Museum, Naples, Italy in 2006/2007.  He also attended ARTIADE – 2004, Olympic of Visual Arts in Athens, Greece. 

His sculpture "Lonely Planet" was installed in Austria in 2002. He participated in Nomadifesta – 2004 in Nicosia, Cyprus.   His work "Splendour" has been exhibited in Musco internazionale delle Ceramiche Faenza (RA) Italy in 2003. He participated in Art Forest-2 in 2000 at Wien, Austria, and Europos Parkas, Vilnius, Lithuania, in 2001. He has won several scholarships from the national government of India and received the Art India, Indian Habitat Centre Promising Artist Award for the year 2008. Ashish Ghosh was born in West Bengal, India, and received his Master of Fine Arts degree in sculpture from Vusva-Bharati University in 2001.  He is now teaching art classes at this same university in West Bengal, India.   This will be his first visit to Taiwan, and he plans to bring his wife with him to help with his installation at Guandu Nature Park.