Chao Chang Lee|鳥.居 Flavor of the Wetlands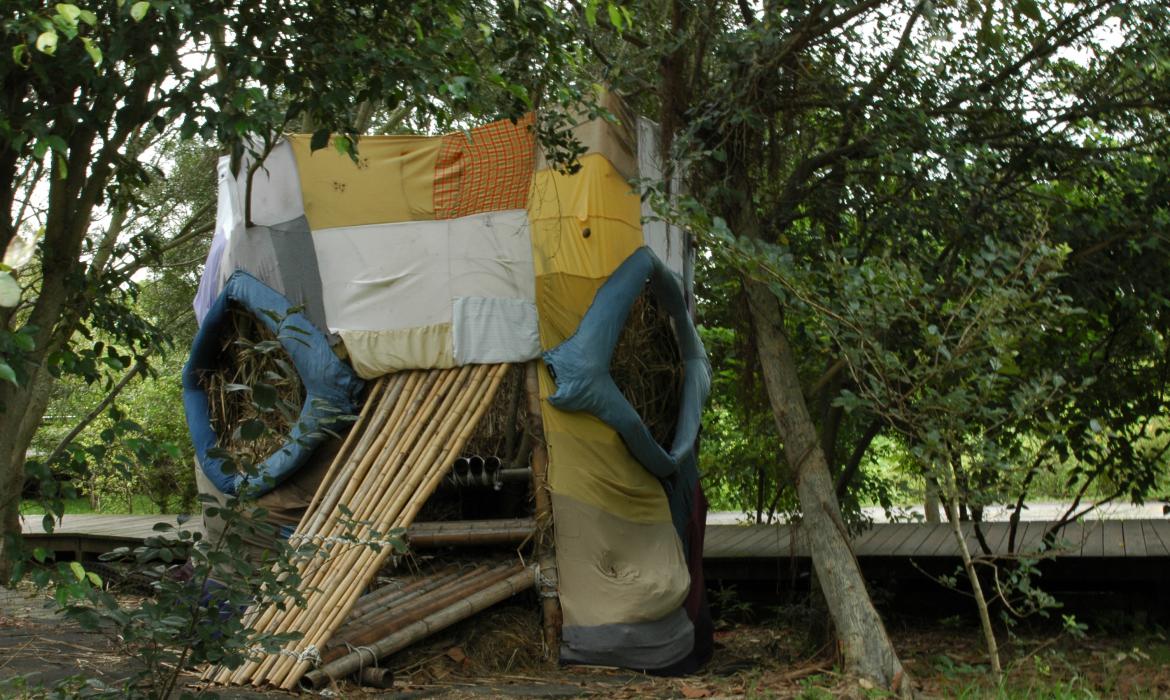 鳥.居 Flavor of the Wetlands
李朝倉
Chao Chang Lee
臺灣 Taiwan

年份 Year
2009

材料 Materials
樹枝、濕地土壤、麻繩
Braches, soil of wetland, hemp rope

理念 Statement
來到關渡自然公園,首先感到興奮與好奇的是,濕土的顏色味道與藏在裡面的吸引鳥類的秘密。所以這次主要是傳達味道與秘密。

一邊摸著揉著聞著濕土的感覺一定很棒,人們喜歡在屋子裡藏秘密,所以會有類似起土角厝的方式和附近的自然素材結合,來蓋一個屋子。遼闊的濕地是鳥類及相關生態生命的仙境,他們所有秘密都是公開的擺在眼前的,但人類看不到。雖然作品名稱是「鳥居」,但其實是「人居」,我們進到鳥類造型的空間裏,嘗試閉起眼睛會感受到什麼秘密?其實這也是我想藉這次的過程好好來學習的。

整件作品的製作其實並不複雜,不外乎骨架製作然後糊土,這全程都可以輕鬆參與,而且也真的需要協助(笑)。展示過程中會遇到颱風,他會幫助這作品的土回到濕地,而屬於陸地的骨架則繼續留著,成為和颱風合作後的作品。

Coming to Guandu Nature Park, I feel so excited and curious about the smells, the colors and the secret hidden in the wetlands to attract birds. So this is mainly the topic I want to convey in my work, the flavor and the secret of the wetlands.

People like to keep a secret inside a house, so the wet soil will be combined with the natural material to build a sort of house with the adobe technique. The vast wetlands are full of birds and related to the ecological wonderland of life; all their secrets are open to us, but human beings cannot see. Although the work is called "The Liau-gi" (a place where birds live), it is actually a "Human Habitat." When we go into the structure with eyes closed we can imagine ourselves as birds.  In fact, this is what I would like to study seriously with this process of making my work.

To create my sculpture at Guandu Nature Park I plan to use all natural materials found at the location.  I feel it is a great thing to use local materials, and we always need to spend time in nature to feel and to learn. The whole production of my work is not complicated; first I will produce a skeleton of bamboo or branches, and then use the soil like paste to construct the shape.  Other people can easily participate in the entire process, with some assistance of course. When the typhoon comes during the display of works, it will aid in taking the soil back to the wetlands, and the skeleton that belongs to the land will continue to stand.