Stuart Ian Frost|水深之處 In Deep Water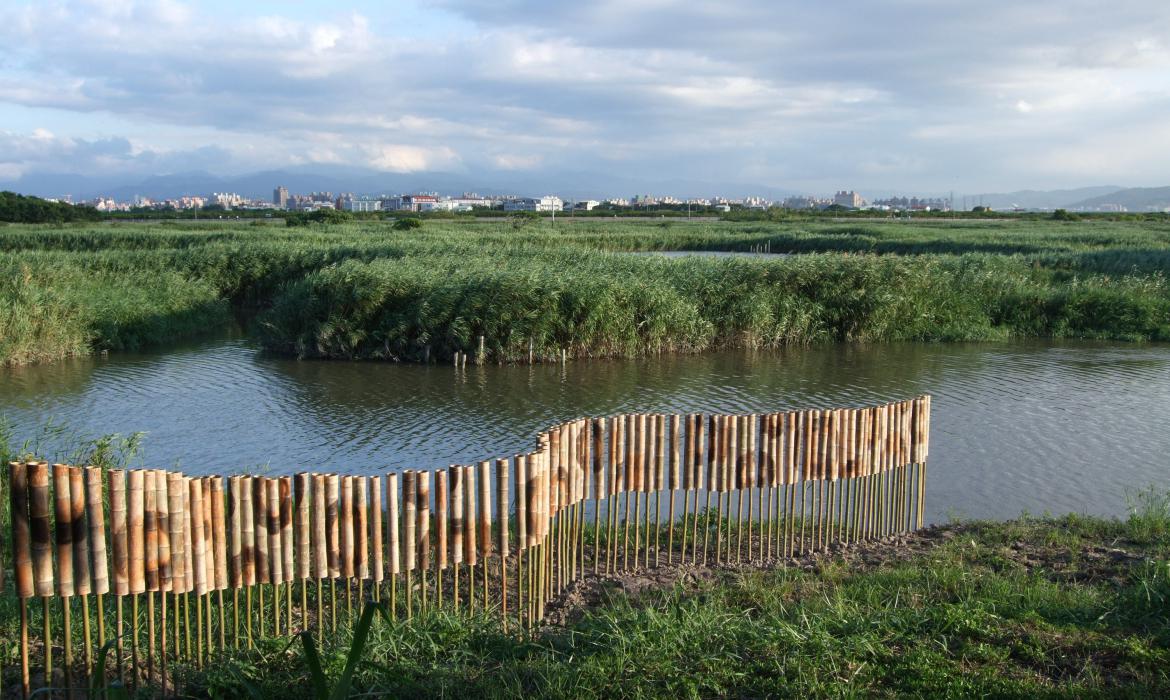 水深之處 In Deep Water
斯圖亞特‧弗羅斯特 
Stuart Ian Frost
挪威 Norway

年份 Year
2009

材料 Materials
竹子、火、水
Bamboo, fire and water

理念 Statement
我想要呈現的是一串迂迴曲折的籬笆,從陸地一直蜿蜒到潮間帶的濕地。這個籬笆是由粗大且中空的的竹子覆蓋在上端,底部則由特定高度且口徑較細的竹子固定住。這些較大的竹子可以順著軸心而旋轉,在潮間帶的大型竹子也會隨著潮汐的韻律而起舞。設計這些可移動的竹子的靈感是來自於烙印出的遺失文化。在潮間帶的籬笆完全由大自然來掌舵、自然的起伏,與其成對比的是在陸地上的竹子,因為我們鼓勵路過的人可以任意的轉動每一節竹子。經過人為的操作,可能會破壞了原有的和諧,但也有可能透過重新的排列組合而創造出新的視覺平衡。處於陸地與潮間帶中間的籬笆,則一直不斷的輪流遊走於這兩者之間的角色:一方面要保護自己,一方面又要面對外力的介入,視接觸程度而異。

「水深之處」象徵著我們如何影響這個世界,同時又如何被這個世界影響。呈現出我們是如何在不斷的消耗天然的資源,這個創作給了我們兩個選擇,我們可以轉動巳經零亂的竹子,重新排列組合,使其有條不紊。另外我們也可以選擇什麼都不做,讓它順其自然的理出一個頭緒。

透過這件作品,希望能喚起大家的省思,也就是身為人類,我們巳經造成了無可彌補的全球暖化效應,海水上昇、森林的濫墾,以及對原住民風俗與文化的破壞。

I wish to construct a meandering fence-like structure. The fence will stretch from dry land and end somewhere out in the tidal wetland area/river. The fence will be constructed in such a way that larger diameter hollow lengths of bamboo will be placed over, firmly anchored thinner poles and held at predetermined heights. These larger lengths will be able to rotate around their axis. The larger pieces of bamboo located in the tidal area will also be able to move/bob up and down in harmony with the tide water. These moveable sections of bamboo will also have designs inspired by lost cultures burnt into their surfaces.

The section of fence in the tidal area will be totally controlled by nature, echoing the movements of the water as it flows, rises and falls. It will be in constant harmony with its surroundings and not affected by human intervention. The section on dry land however will be affected by passers-by who will be encouraged to rotate any piece/section they wish. Through their actions they will either destroy the visual harmony, or try to rediscover it, by repositioning pieces/sections of the fence.  The section in between the two will be at constant battle fighting to be one thing and not the other. Left in part to fend for itself and at the same time constantly at risk of intervention, it is all dependent on accessibility.

I see my proposed work as a symbol for the way we affect/have affected/can affect the world and the way in which we put constant pressure on its depleting natural resources. The work allows us to make a choice. Either we can try to rearrange the pieces that may already be out of place into something more coherent or we may alternatively choose to do nothing, leave it and hope that it will sort itself out. 

Through this work I wish to set a focus on how we as human beings have already had a serious effect on global warming, rising sea levels, deforestation and the destruction of indigenous people's customs and culture.