Chun Sun Yang|鳳來儀 Phoenix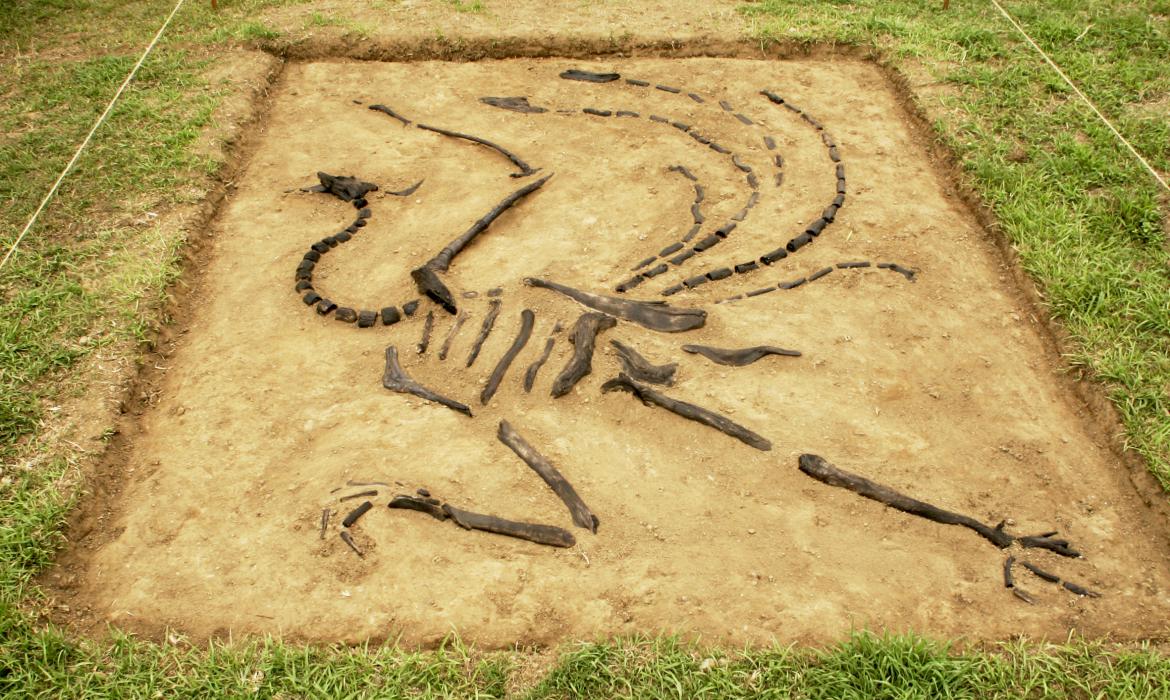 鳳來儀 Phoenix
楊春森
Chun Sun Yang
臺灣 Taiwan

年份 Year
2009

材料 Materials
泥土、樹枝、炭化漂流木
earth, branch, carbonized driftwood

理念 Statement
河床上被沖刷出的巨型黑色化石,像是恐龍世紀的始祖鳥,但它並不是;原來它是東方傳說千年的鳳鳥(鳳凰)。鳳鳥是古代傳說的吉獸,如恐龍般今人已不可見;但傳說或許也是事實。「鳳來儀」以在關渡自然公園內發現古鳳鳥的炭遺骸,讓古老傳說變成一種浪漫的真實。

本作品運用漂流木群或園區內的枯樹材作為創作素材,經藝術的炭化作用後,進行地景裝置。空氣的「碳」雖造成了暖化現象,但木質的「炭」卻是過濾水質與淨化環境一種最天然的古法。「鳳來儀」以炭的材質來象徵帶來水質的純淨度,以鳳凰的意象守護關渡自然公園,並喚醒東方精彩的古造型美學。

On the river bed a giant black fossil was washed up. It appears as if a bird of the Jurassic period still lived in the modern times, but it does not. It is a legendary bird, the Phoenix, that lived in the ancient East. The oriental culture sees it as a bird of luck. It is said that they are totally extinct or never existed; maybe it is not true. My artwork called "The Phoenix" is inspired by prehistoric bird fossils discovered in Guandu Nature Park and tries to turn the legend into reality.

The work makes a good use of dead trees in the park and driftwood. The wood is dealt with in a process of carbonization, and then installed on the site. Although the level of carbon in the air has caused global warming, the charcoal made from burning wood is the most ancient means of carbonization as well as being an environmental friendly way of purifying water. The work borrows the means to purify water in the park and the image of a lucky bird to protect the park. It also raises the awareness of spectacular oriental art and beautiful forms.