Roger Tibon|天空之盾 The Shield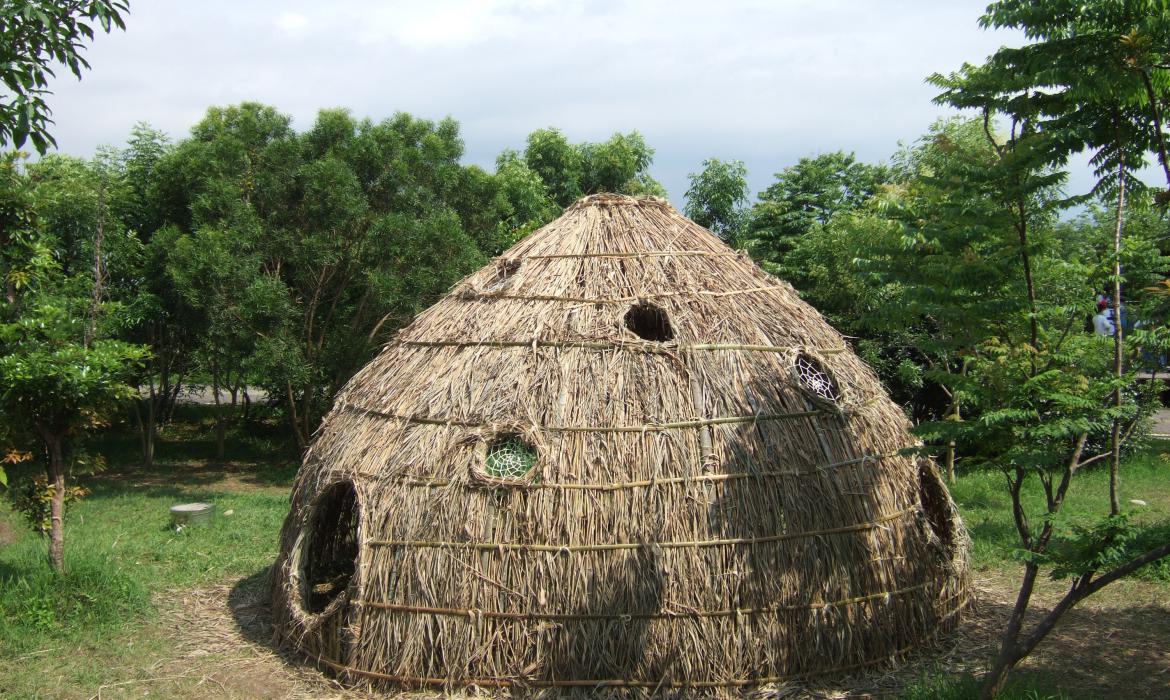 天空之盾 The Shield
羅傑‧堤彭
Roger Tibon
菲律賓 Philippines

年份 Year
2008

材料 Materials
竹子、麻繩、樹藤及其他植物
Bamboo, rope, rattan strips, other natural materials

理念 Statement
半圓形的蒼穹代表著大氣層。地球上的大氣層保護著我們,減少了紫外線和高溫對我們直接的傷害。但是,由於人類對自然環境的無知、漠視和不負責任,從而對大氣層造成不可抹滅、不可修補的傷害,以致大氣層產生破洞。現在我們已自嚐苦果,極端的天氣型態和全球暖化,將把人類帶到滅亡的邊緣。

全世界的冰河開始逐步的溶化,處於低水位的島嶼和陸地逐漸的被淹沒,內陸裡的大江、河流、湖泊和池塘也開始面臨著乾枯的威脅;更多的森林、灌木群和草地,在高溫下產生自然火災,更多的熱浪潮一波又一波的傷害人類、動物和植物。

天空之盾是對我們目前自然狀況的反映,提醒著人類對大氣層的破壞後所帶來的嚴重後果,當我們依賴著它來阻擋猛烈的陽光,卻突然發覺,我們已經無法從它來獲得完全的保護。原本大家習以為常的保護網,事實上是那麼地珍貴和脆弱。

個創作是可以帶給訪客互動的作品。遊客來參觀時,我會鼓勵他們一起來編織,把作品上的小孔填滿,寓意著人類應該盡力修補被我們所破壞的大氣層。

The shield is symbolic of the ozone layer. The ozone is supposed to protect the world and us from harmful ultraviolet rays and excessive heat. But, due to our ignorance, neglect and irresponsibility, we have caused irreparable damage and holes to it. And now, we are experiencing the worldwide effect of global warming which puts us in a nightmarish brink of destruction.

Glaciers and Alps are slowly melting threatening lowlands and low lying islands into submerging underwater. Rivers, inland seas, lakes and other smaller bodies of water are drying up. More and more forest, bush and grass fires occur due to excessive heat from the sun. Heat waves are becoming more and more intensified and killing humans, plants and animals.
The shield is a grim reminder of our precarious situation. When we enter inside it to take shelter from the scorching sun, we realize that we no longer get full protection because of the big holes around its wall – which we have created, maybe, unconsciously.

My work is interactive. The people who will be visiting and entering the work are encouraged to put some weaving in the holes, symbolically trying to heal the holes of the damaged ozone. Thus this work will be changing during the entire duration of the exhibition.