J. Villiger, J. Handleman & D. Villiger|躍入泥沼 Jump in the Bog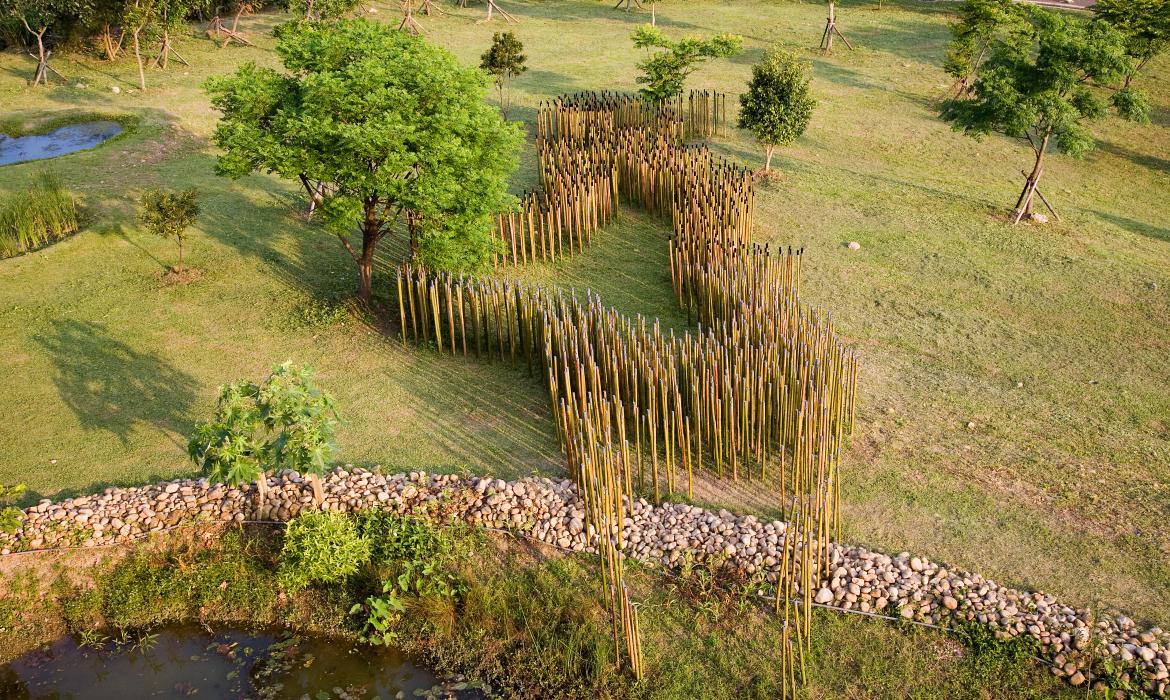 躍入泥沼 Jump in the Bog
Judit Villiger, Janice Handleman & Daniela Villiger
瑞士、美國、瑞士
Swiss, U.S.A. & Swiss 

年份 Year
2007

材料 Materials
竹子、油漆
Bamboo, paint

理念 Statement
「我們的創作思考,是期待為閱聽者提供照片只能透過適當距離看見的另外選擇。視覺是透過對照片的瀏覽產生影像,但我們邀請參觀者身體力行,以眼和腳瀏覽行進於圖片上,隨畫面移動,激發不同角度的新看法,由感性的領悟取代理性的了解,以概括性的目睹轉化為迷失自己於其中,猶如置身祕魯的納斯卡線與英國南部的白馬圖像一般。」

由德國裝置藝術家約瑟夫‧波伊斯名為「沼澤計畫」的照片,是作者們的影像依據;這件作品表達人類的干預已使生態系統瀕臨危機,與關渡自然公園的保育宗旨相契合。而另一件波伊斯的作品「歐亞」,以兩根柱子間的串聯闡述東西方文化資產交流,以及探討橡樹植栽與玄武岩柱的生命消長的「千年橡樹」,都是這件創作所欲傳達的思想。「我們的作品將隨時間流逝而改變,終將被地面上的叢生雜草掩蓋,天然力最後在人為與自然的角力間佔上風。」利用軟體將照片數位化,以黑白點方式排列轉移至地面,在自然律中呈現數位化的花園。

Our installation poses alternatives to the assumption that a picture can only be perceived from a distance or from a bird's-eye view.  The eye typically "walks" through a picture, but we invite the viewer to move throughout the image - physically.  Walking through the picture (with the eye or on foot) allows new perspectives to emerge: sensorial perceptions replace the more rational comprehension of having an overview.  Placing a drawing in the landscape allows viewers a transition from experiencing a general view of the installation to losing themselves in its context.  A photograph of a Joseph Beuys' project called Bog Action (1971) serves as master image for this work.  The subject matter of Bog Action refers to the ecosystem that is endangered due to human interference, thus the central mission of Guandu National Park is integrated into the project.  With another work by Beuys, Eurasia (1968), a link is forged between two poles, namely the exchange of cultural assets between the East and the West.  Our project would like to contribute to this link.  In addition, we refer to Beuys' 7000 Oaks (1982), a project which includes the factor of time.  For Beuys' project, oak trees were planted next to basalt stone columns.  A contrast evolves between the trees that continue to grow over years, and the columns, which will eventually be worn away.  Our installation will also transform with time as well.  Marsh grass grows rampantly and will eventually conceal the elements placed in the installation.  Nature will gain the upper hand during the rainy season causing a conversion between the order created by human beings and the order of nature.  This Beuys-like action captured in analogue photography is digitalized with Photoshop, rendered in stakes to produce a matrix of dots (0=white, 1=black) and then transferred to the landscape.  An order formed by digitalization is placed within the order created by the natural growth of the park resulting in a domesticated landscape: a garden.