François Frechet|向日葵 Girasol (Sunflower)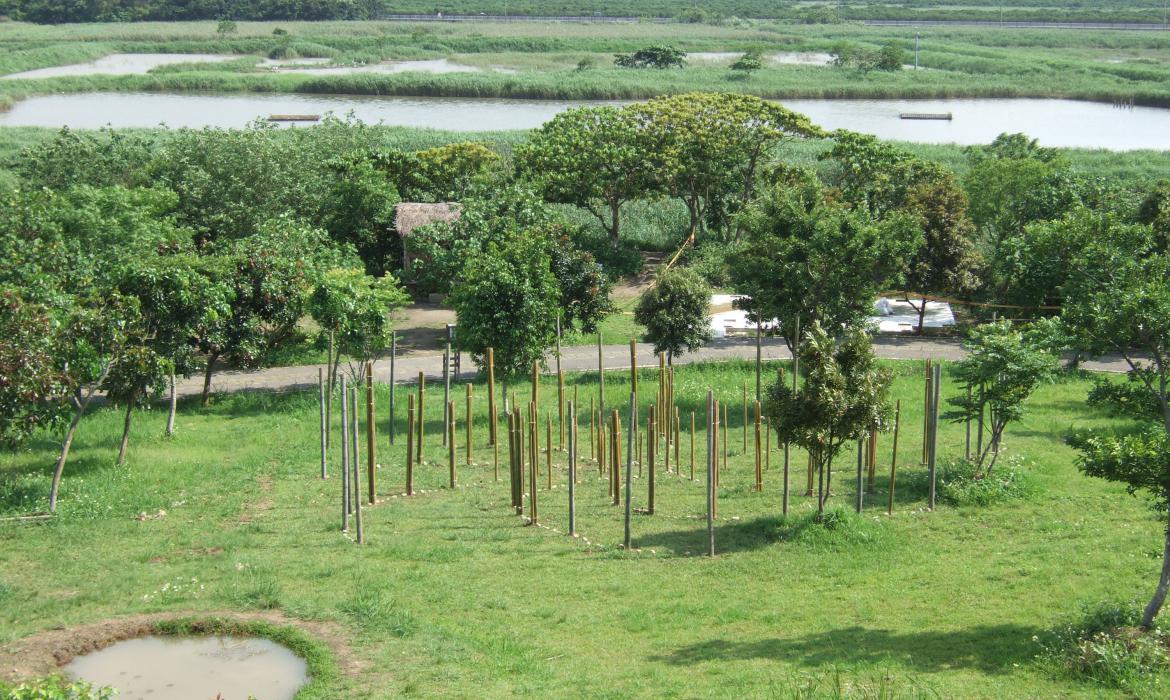 向日葵 Girasol (Sunflower)
方斯華‧福雷謝
François Frechet
法國 France

年份 Year
2008

材料 Materials
竹子
Bamboo

理念 Statement
我們都知道地球正在持續的暖化中,因此各個工業大國,如美國、日本及加拿大等,於2007年12月在峇里島召開京都高峰會。雖然會議進行得如火如荼,但是身為地球上一位小居民的我,並不想只是隔岸觀火,全球暖化之災它使得全球海平面升高,而部分的植物在走上滅頂災難前,會因應天氣變化而移居到適合生長的地方,但是因為現在的天氣轉變的太快,植物並沒有足夠的時間來適應,而造成植物的滅絕。我的作品就是植物傳聲器,替植物們奏出最後的哀歌。

我的作品是取向日葵的型態來代表太陽--我們最好的盟友,但我們卻製造了最糟的臭氧層破洞的情況。向日葵的花瓣和種子排列成兩個螺旋形,代表著各式各樣的植物。這種特別的排列,能夠展示出植物每部分的生長,包括:根部、葉子、枝部和花朵,透過我的作品兩個螺旋形的設計,我想要向觀賞者傳遞生物應有許多種類以及生物多樣性的概念。

今日我的作品大部分都在為生物多樣性發聲,從而對人類做出抗議,加入身為藝術創作者所擁有的美學面向,來將概念傳達給民眾,提醒人們應該要緊急對這些無價的資產來共同努力,這就是美學背後所展現的真實故事。

At the same time that the climate negotiations in Bali are in crisis because Japan, the USA and Canada are banding together to wreck the consensus, we have to prevent a catastrophe !!! The catastrophe of global warming is not only the increasing sea level, but also the extinction of plant species! Each time there is a change of climate, the plants move to a better place for them, but when it happens so quickly, when it's in such a short time, they die!!!
My work wants to speak about that!

My installation takes the form of a Sunflower that represents the sun, our best ally and our worst with the hole in the ozone now present!
The Sunflower that represents all the vegetal life with its two spirals in flowers and seeds can be a symbol of the vegetal group. This special arrangement is concentrating on all the ways that each plant grows, the leaves, the branches and the flowers. Through my installation I would like to show the loss of biodiversity by using the plan of the double spiral, like a labyrinth that leads to the hole, and planted with sticks of bamboo.

Today my work turns more and more towards a defense of biodiversity. My projects, in addition to the aesthetic dimensions of "the artist," aim to inform the public (like an alarm bell, and not to sit in judgment on anyone) of the urgency to preserve and safeguard this priceless inheritance which is our biodiversity.