Firman Djamil|0燃料=0煙囪 0 Fuel=0 Chimney (Zero Chimney)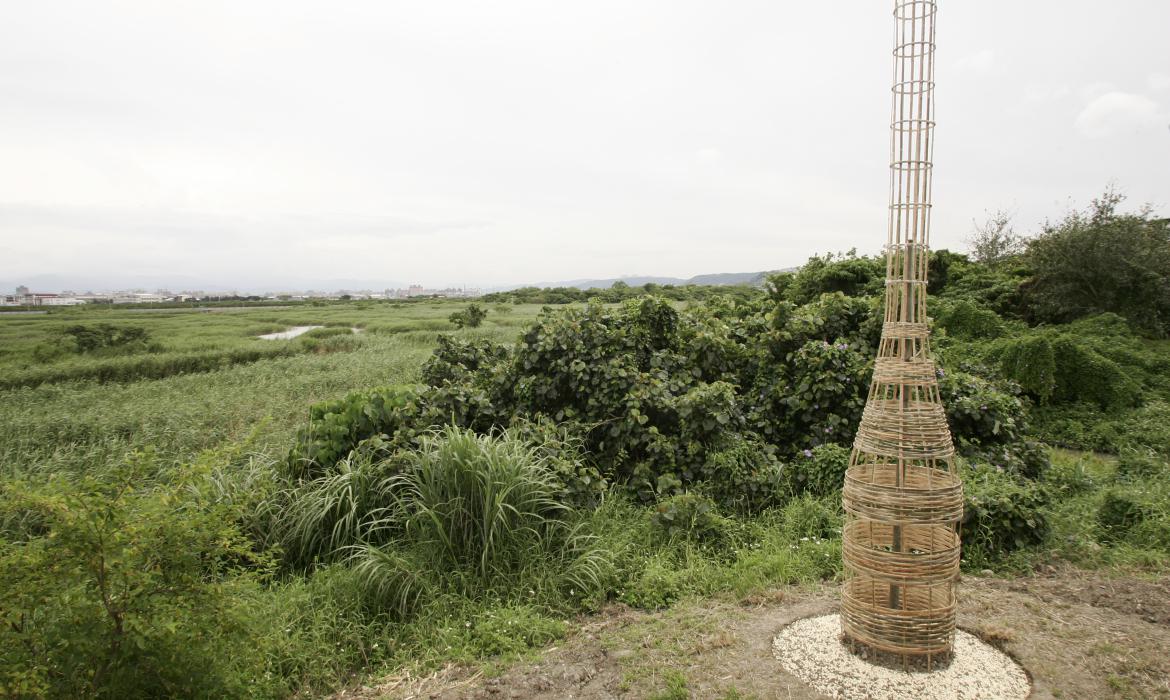 0燃料=0煙囪 0 Fuel=0 Chimney (Zero Chimney)
菲爾曼‧德加米爾
Firman Djamil
印尼 Indonesia

年份 Year
2008

材料 Materials
竹子、種子
Bamboo, corn seed

理念 Statement
聯合國天氣變化高峰會議於2007年12月在峇里島展開,而這個會議是針對由排放溫室氣體而引發的全球暖化危機;眾所周知的是由於很多工業大國不同意京都議訂書所協定的條文,也因此使得全球暖化的現象更加嚴重。同時,地球也逐步面臨著石油恐慌的問題。

在另外一方面,世界也對替代燃料─酒精有著莫大的需求。酒精通常由利用工業技術所種植的玉米製造而成,但是製造酒精卻會引起更多的問題,因為用大量的玉米製造酒精,會導致玉米田快速的乾枯。例如,製造一加侖的酒精需要大約兩加侖的清水去灌溉玉米田,每一加侖的酒精會製造出大約十加侖的農業廢料,由於製造出這些廢料,一方面消耗了大量的能源,另一方面更帶來汙染環境的危害。

對於以上的問題,身為一個藝術工作者沒有直接解決以上問題的能力,但是所創作出來的藝術品和概念,卻可以深入至不同的文化和社會中。所以在關渡自然公園裡,我希望用竹子和玉米粒建造一個裝置,名為『零燃料、零煙囪』。這個裝置藝術品就像工業煙囪,由竹子製造而成;煙囪的內部將鋪滿玉米粒,外觀由竹子製成,底部則遍佈幼嫩的青草。

這個藝術品,是我對工業煙囪不再排出二氧化碳而是排出清新空氣的期望。農場裡面的玉米不再為燃料,而是為了人類和鳥類所生長;到時候人類可以在清新的空氣下漫步,鳥類可以在蔚藍的天空下唱歌。

In Bali, Indonesia, in the month of December 2007, an international conference with the theme of Climate Change (United Nations Climate Change Conference) was held. This conference is in response to the global warming problem that resulted from the emission of greenhouse gases. But as we know, many big industrial states are not agreeing with the idea of global warming prevention efforts like the Kyoto Protocol. Meanwhile, progressively the world is reaching the day when the reserves of fossil oil will be entirely depleted.

On another matter, there is a striving to create alternative energy sources like Ethanol. Ethanol is produced from maize/corn through an agrifuel industrialization project. But the production of Ethanol will become a big problem because if maize is cultivated to make ethanol on huge farms, there will not be enough water. To produce one gallon or 3.7 liters of ethanol requires 6.345 liters of fresh water to grow the maize/corn for fermentation.

Every gallon of ethanol yields 37.85 liters of irrigation waste. This waste processing requires big amounts of energy and a risk of environmental damage.
In responding to the above problem, an artist of course cannot directly make a change. But ideas from the artist can be an inspiration for resuscitation and reach out to all of society. Therefore, in Guandu Nature Park, I wish to build an installation made from bamboo and corn seed that is named Flue Zero = Chimney Zero.  This installation work is in the form of a chimney or smokestack, constructed from bamboo. Underneath my installation seeds of maize will be planted to encircle the chimney building.  Also the undercarriage wall of the chimney is wrapped with grass.

This work, Zero Chimney, is my wish in a hopeful moment that industrial smokestacks shall no longer yield gas emissions of discard in the form of Co2. And instead from each industrial plant there will be a yielding of fresh air for the atmosphere of earth.  And that seeds of corn can grow sufficiently to be consumed by human beings and also eaten by birds.  And that birds can fly in the sky and in each dulcet moment sing songs.