Aihua Hsia|「想像的流」通往的境界 To the flowing time and weather that changes human desire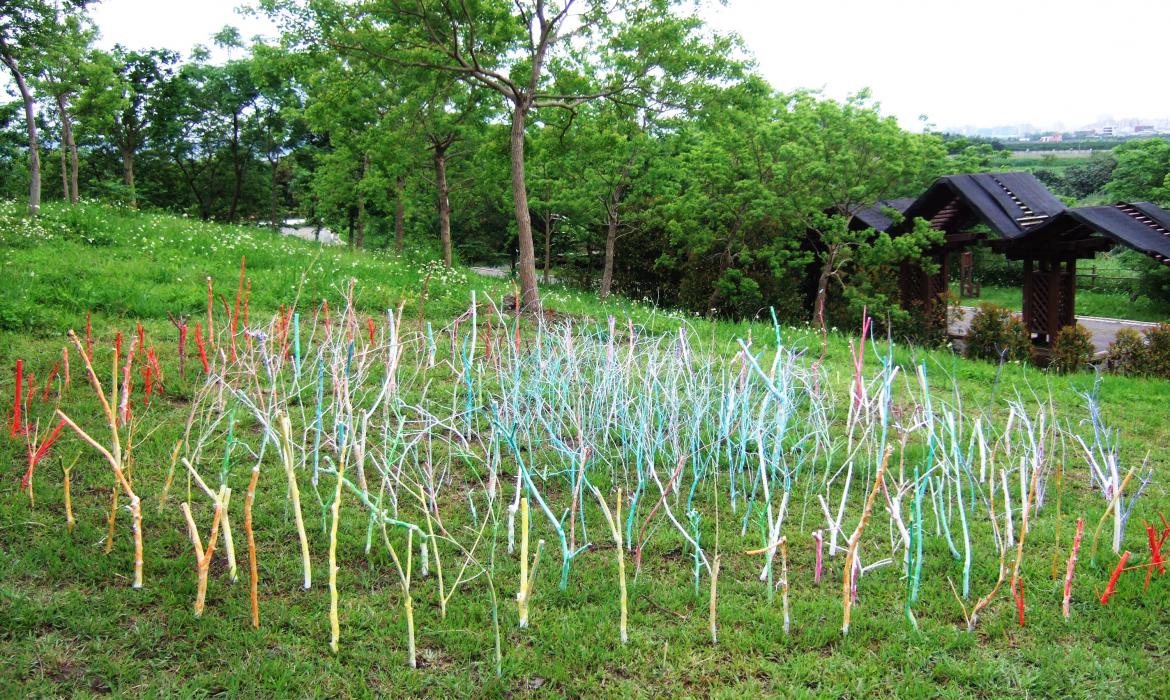 「想像的流」通往的境界 To the flowing time and weather that changes human desire
夏愛華
Aihua Hsia
臺灣 Taiwan

年份 Year
2008

材料 Materials
枯枝 、岩彩
Branches, mineral pigments

理念 Statement
在台灣,天氣是相當溫暖且平穩的,人們不需要去擔心下雪或是太冷而造成的問題,我也從未見過龍捲風。然而,當我在日本留學時,第一次感受到四季的分明,人們對於溫度的敏感,甚至運用科技來維持室內舒適的溫度,即使如此、人們仍然無法控制大自然的天候及環境。

我記得2000年在日本沖繩唸書時,暑假都會去海裡潛水。當時的珊瑚是那麼的多采多姿,顏色鮮豔迷人。但是今年在新聞報導上看到,沖繩海域由於水溫上升的關係,珊瑚幾乎全面白化,如果海水的溫度在一週內沒有下降的話,珊瑚群將會全面死亡。即使人們可以藉由電視媒體了解全球暖化是個嚴重的問題,但是假如人們沒有在自身周圍的環境中感受到改變,那麼是不會了解到地球到底發生了什麼事情的。因此,我將以這件活生生的作品來告知人們這個當下的危機。

這件作品,我要將關渡自然公園裡有的植物枯枝,種植在公園中形成三公尺直徑的圓。這些枯枝將會以天然的岩彩及鹿膠來上色,岩彩是採自於天然的礦石,即使被雨沖刷至土壤也不會對環境有任何不良影響。鹿膠溶於熱水,所以它鮮明的色彩會漸漸變成白色、就像是珊瑚白化似的最後成為一片白色枯枝。

這件作品的戲劇性變化,希望能帶給觀賞者一些刺激與警惕,讓大家在觀賞後能更嚴肅地思考全球暖化的課題。

In Taiwan the weather is usually very calm and mild, and we do not have to worry about snow and ice.  I never saw a tornado in my hometown.  However, when I studied in Japan I felt the four seasons for the first time.  People were so sensitive to the temperature, and they even tried to use science to keep the temperature in the room comfortable.  But, we still cannot control the environment.

I remember when I studied in Okinawa, Japan, in 2000, I went diving to see the coral every summer during vacation. The coral was so beautiful and colorful.  But this year I saw the sad news about coral.  The temperature is getting so high in the seas around Okinawa, and as a result all of the coral will become white.  If the temperature in the sea does not fall in one week, all of the coral will die. Even the TV says that global warming is getting more serious every day.  If we cannot see how our environment is being changed so quickly, then people will not understand the seriousness of this problem of what is happening to the earth.  Accordingly I will try to show people this emergency vividly with my artwork to let them know it is an immediate problem. 

For my work, I want to make a representation of the ecology of Guandu Nature Park (Each unit will be about 20 cm to 30 cm high).  I will place these representations of the plants of Guandu Nature Park in an area about 3 meters in size with the shape to fit the selected site for my work.  I will color the plants made from branches found in the Park with mineral pigments adhered by gelatin. The mineral pigment I will use is made from the rocks and earth, so it is a natural material that will not have a bad effect on our environment. The color on my work will fall off gradually due to the rain and weather changes outdoors.  Slowly this little ecology that I have created will become white just like the coral that stays at a high temperature in the ocean because of global warming. 

With my work people will feel the change dramatically, and in a short time see the color change to white.  I hope that this will cause them to start to think seriously about the problem of global warming.