Kuang-Hua Huang|築.棲 Construct Dwell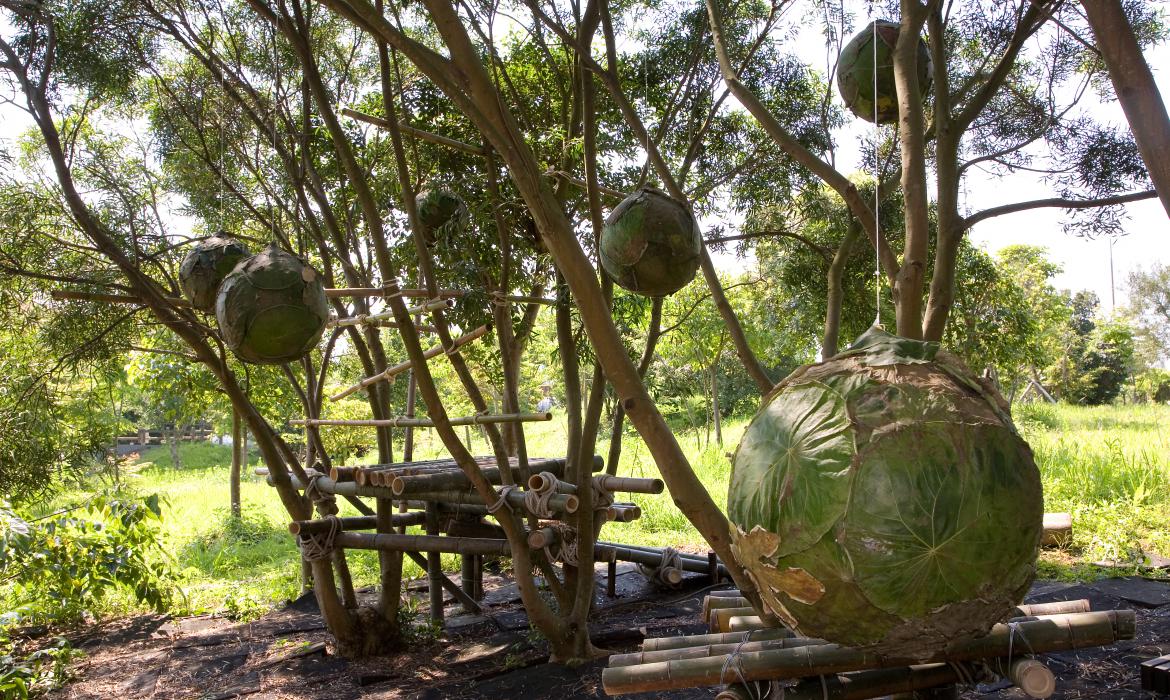 築.棲 Construct Dwell
黃廣華
Kuang-Hua Huang
臺灣 Taiwan

年份 Year
2007

材料 Materials
樹幹樹枝、落葉、竹子、鐵絲、繩子、粘著劑、藤編物
Bamboo, leaves, rope and string, glue, rattan work

理念 Statement
「築」是人類往高處發展居住的行為,以尋求一個可安身庇護的空間,而樹屋就是一種形式。透過建築連結人與空間,使觀者能夠產生具體的「身體感」,進而召喚一種至少是短程──但足以刺激省思──的「空間記憶」,使觀者打破慣性,或甚至強迫重新思考「空間」、「身體」、「記憶」、「環境」等等課題,以省視「建築」與「人的居所」、「自然」以及「技術」的多重關係。
運用現場的自然材料,創造一個造作的「仿自然」空間場域,在樹群中尋找一區域,創造如樹屋的空間,在其中,人隨著進入之後的高度不同,身體、視覺感官接觸到的領域以及層次也相對有所改變,藉此,經驗一種新的空間經驗。而以樹枝結構出球形的裝置,有些漂浮、有些散置於空間裡。

The meaning of the character "zhu" in Chinese is "the way," or the ultimate way that people should behave.  People seek a space for living and for protection.  A tree house or nest is a kind of shape of this type of space.  Architecture creates the relationship between people and space.  It aims to give the spectator a real physical sense of his/her body in a space and to further evoke a "space" memory by breaking down the routine thinking of the spectator, or even semi-coercing him/her to question and rethink the pertinent issues of space, body, memory, and nature.  Using natural materials I create an "imitating-nature" space, like a tree house or nest, People will experience this work in different ways because they are at different levels.  Also, people's perception will be changed to some extent by their field of vision and the use of all of their sense organs.  This space will give them a new kind of experience.