Jane Ingram Allen|有巢氏 Nests for Humans
有巢氏 Nests for Humans
艾婕音
Jane Ingram Allen
美國 U.S.A.

年份 Year
2006

材料 Materials
掉落的枯枝與嫩葉、繩與線、手抄紙、鳥的粒餌
Fallen branches and twigs, rope and string, handmade paper pulp, bird seeds

理念 Statement
鳥,在鳥巢裡都在想些什麼?像人一般大小的鳥巢讓人深入其中、一探究竟,體驗鳥的感受與思維,也思考人與大自然的關係。參觀者與志工將在關渡自然公園內就地取材,以樹皮、落葉等親手製作成手抄紙,佈置「鳥巢」的襯裡。這些手工紙漿中還加入了鳥兒可食用的粒餌,不僅能提供鳥類充足的養分,也能吸引鳥類親近,讓身處「巢」中的你近距離觀鳥。
最後,本作品將如同大自然的現象一樣,隨著時間的流逝而分解,最終回歸大地。這些大自然的現象、變遷與演替,正是我創作過程中最佳的伴侶,無論是時間、風、雨、動物、鳥、人類…,都會在我的作品中留下走過的痕跡。

These human-sized nests are for people to enter and rest there a while to think about man's relationship to nature and the wonder of a bird's creation.  Visitors and volunteers will make some of the handmade paper sheets that line the nests. The paper is made from the bark and leaves of plants found here at Guandu Nature Park.  The paper pulp has birdseeds in it to provide nourishment for the birds and also encourage the birds to come closer so that people can quietly watch them.  Like all things in Nature this artwork will dissolve over time going back into the earth.  The elements of change and chance and the processes of nature are my partners in making this work. Time, wind, rain, animals, birds and humans will all leave their marks on these nests.
藝術家 Artist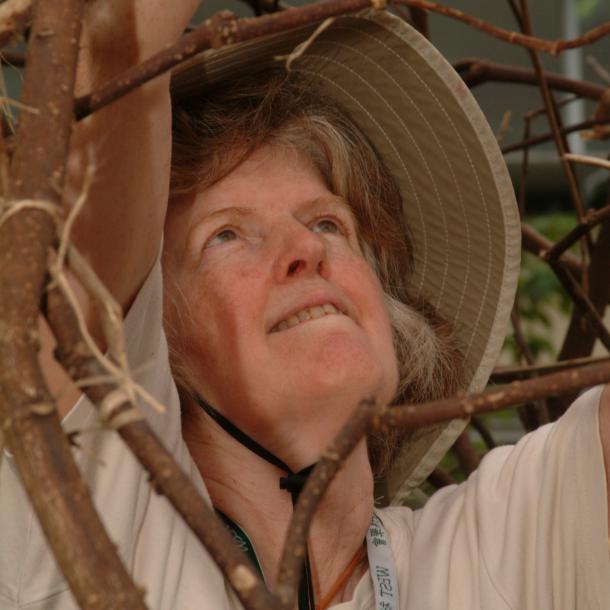 艾婕音
艾婕音來自美國阿拉巴馬州,是常駐紐約的裝置藝術及手工紙藝術家。2004年,艾婕音獲得美國傅爾布萊特獎助金,來到台灣作駐地藝術家,展開當地手工紙藝術的研究計劃,2005年7月起又獲得文建會基金會的贊助,持續在台灣推動手工紙藝術。她曾經是紐約莫利斯維爾州立大學、阿爾巴尼市聖羅斯學院的藝術教授,也是藝術評論家及獨立策展人員。她曾經於紐約及其他國家的美術館及博物館辦過個人展覽,並在許多公共空間創作裝置藝術品,曾在美國、菲律賓、日本、尼泊爾及巴西等國家駐地。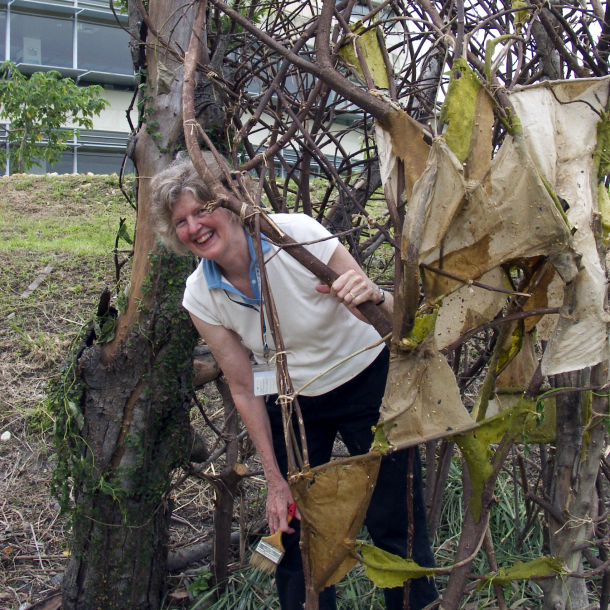 Jane Ingram Allen
Jane Ingram Allen is an American sculptor/installation artist and hand papermaker, originally from Alabama and now based in New York State. In 2004 she received a Fulbright Scholar Award to be an artist in residence in Taiwan and to do a research project on hand papermaking in Taiwan.  Her Fulbright grant was extended through July 2005 with sponsorship by the Taiwan Council for Cultural Affairs/National Endowment for Culture and Art.  Jane has been an art professor at the State University of New York in Morrisville, NY, and the College of Saint Rose in Albany, NY.  Jane is also an art critic and writer as well as an independent curator.  She has had solo exhibitions at galleries and museums in New York and throughout the USA as well as internationally.  Jane has created her installations in many public spaces. She has been an artist-in-residence in the US as well as in the Philippines, Japan, Nepal and Brazil.
作品 Artworks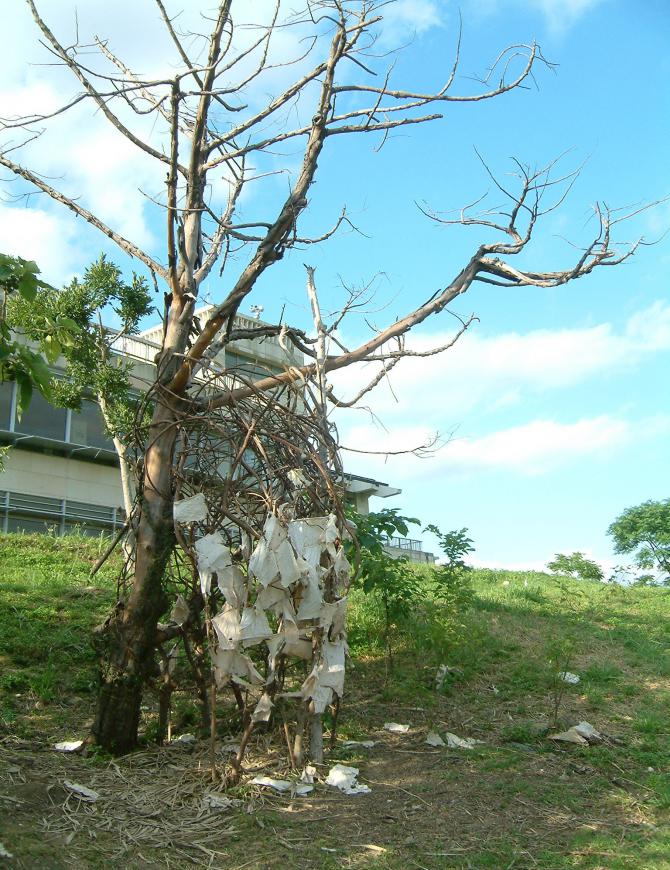 創作花絮 Behind the Scenes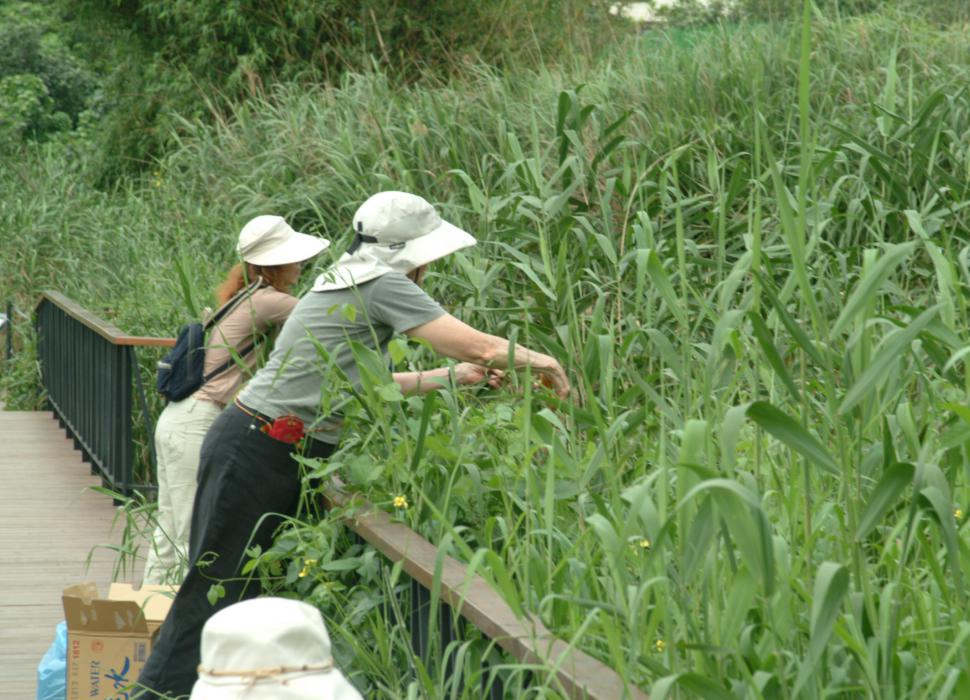 園區內豐富的植物種類提供手工紙製作多元的素材。
The Park's diverse plant life provides various materials for making papler pulp.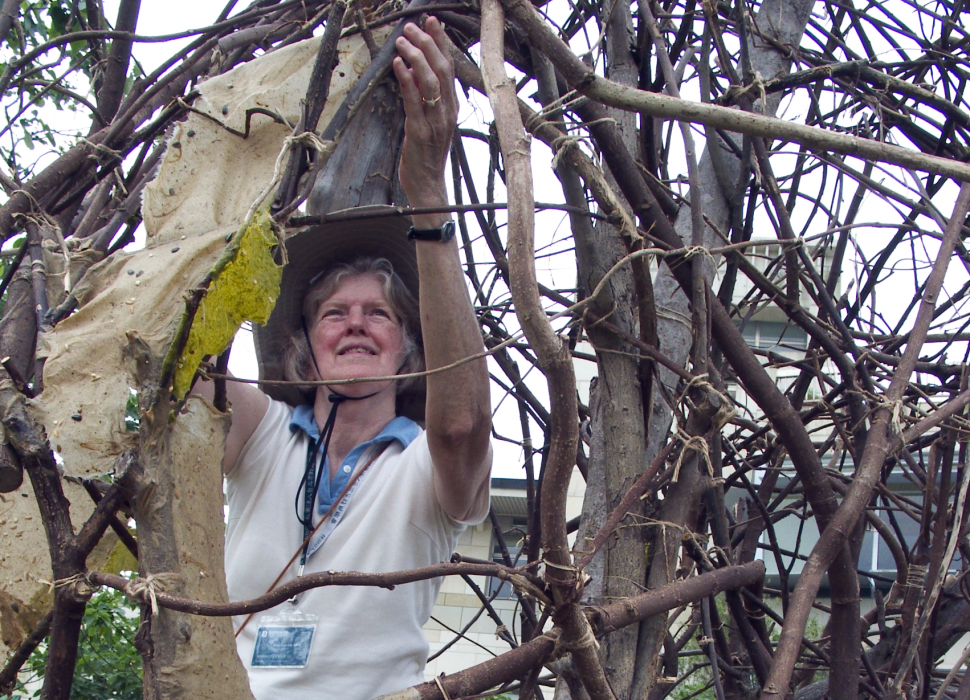 現地植物製成的手工紙是鳥巢的襯裡。
The handmade paper made from native platns lines the nest perfectly.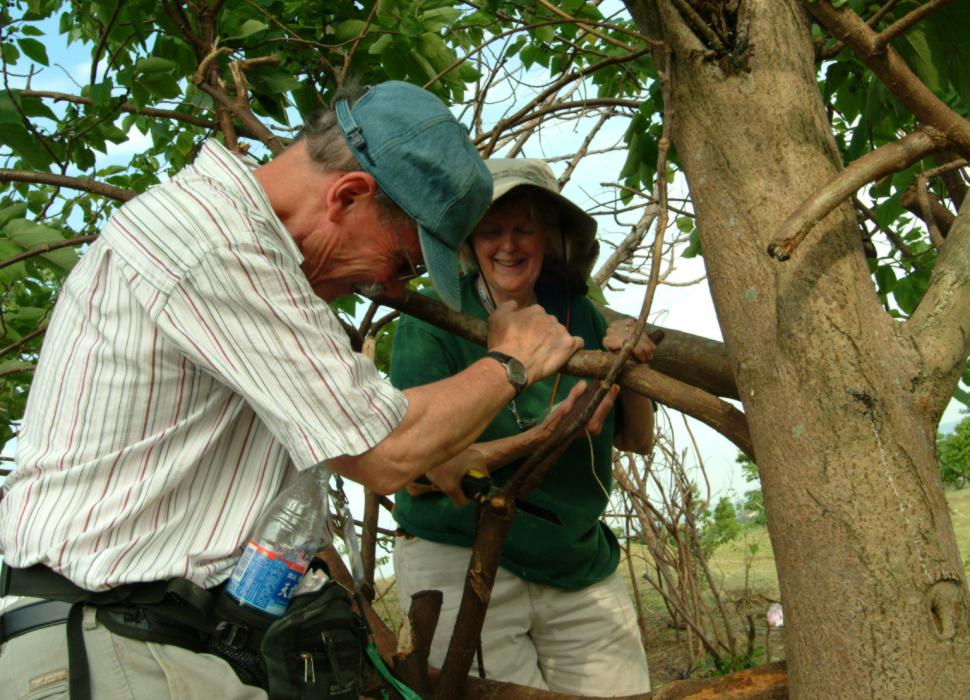 Jane與夫婿Tim合力運用大樹枝幹編織鳥巢。
Jane and her husband, Tim, use a big tree to support the nests.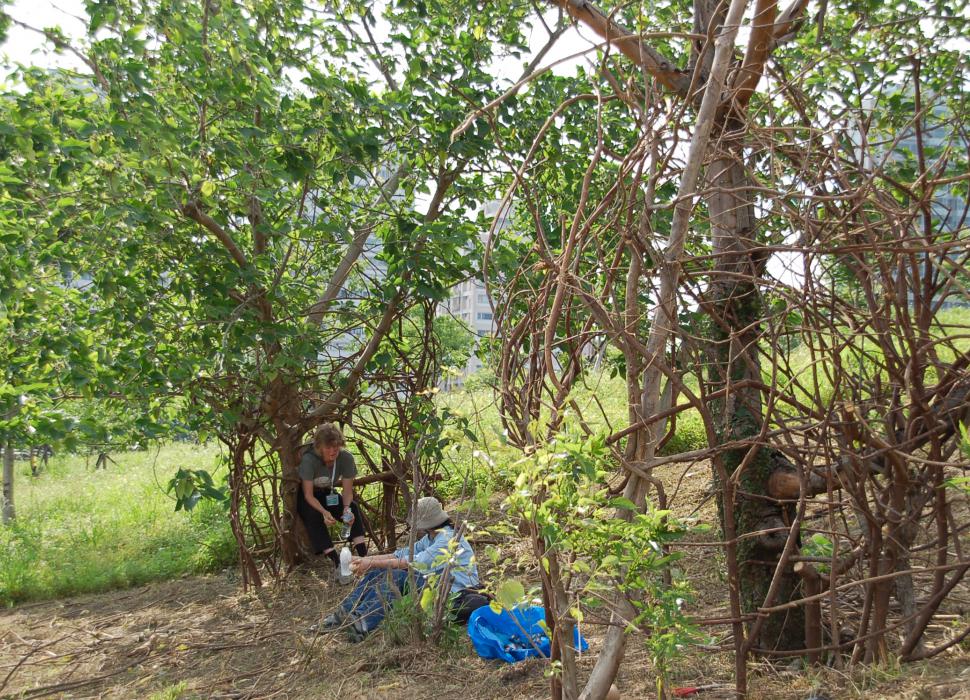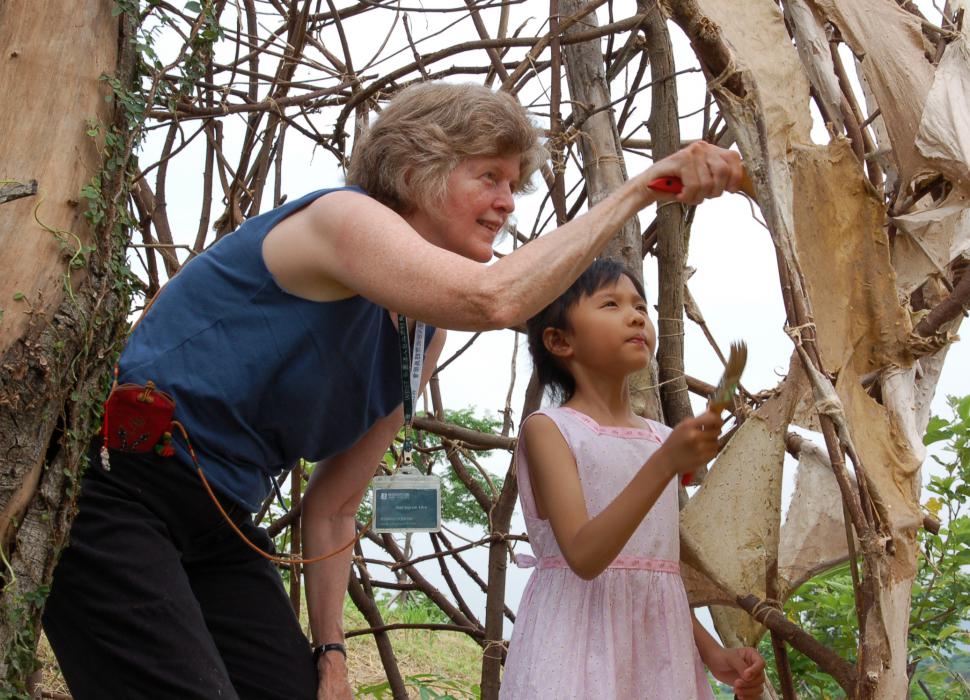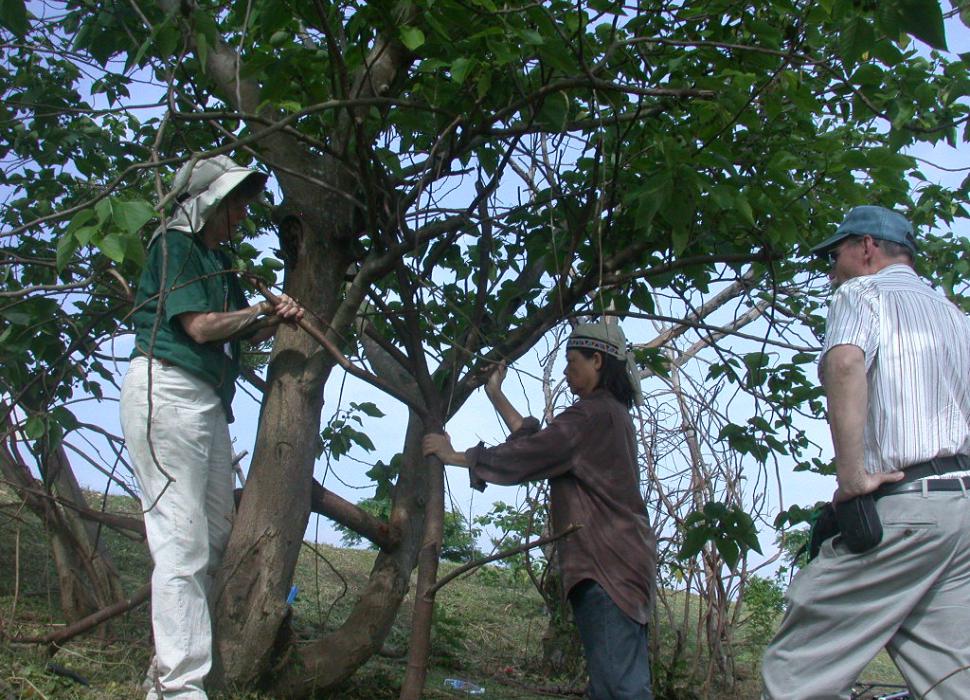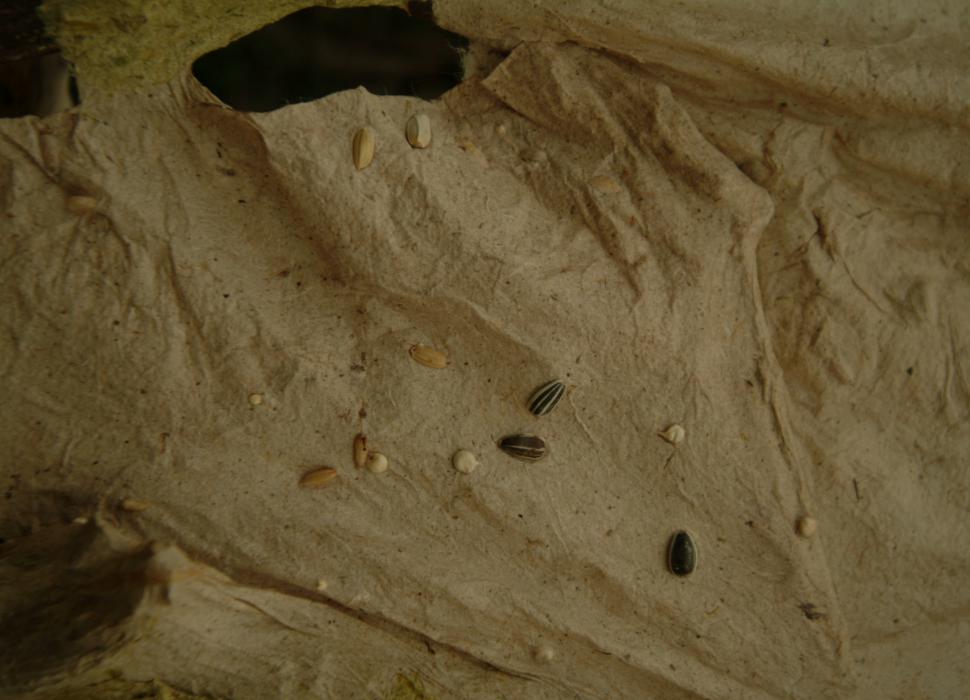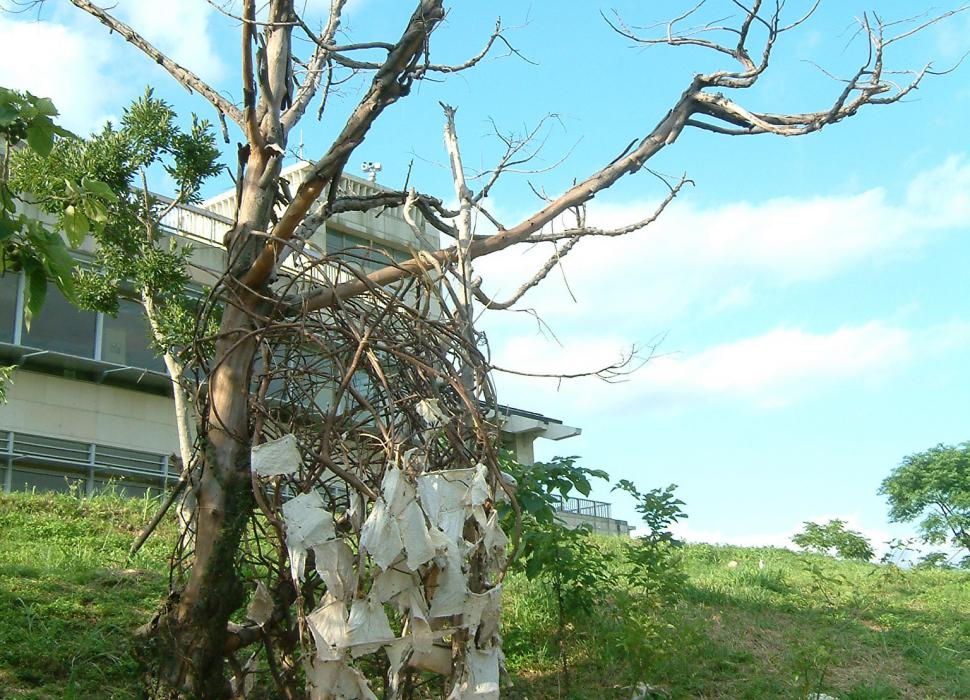 人可站立其中的巢。
Nest for humans to stand inside.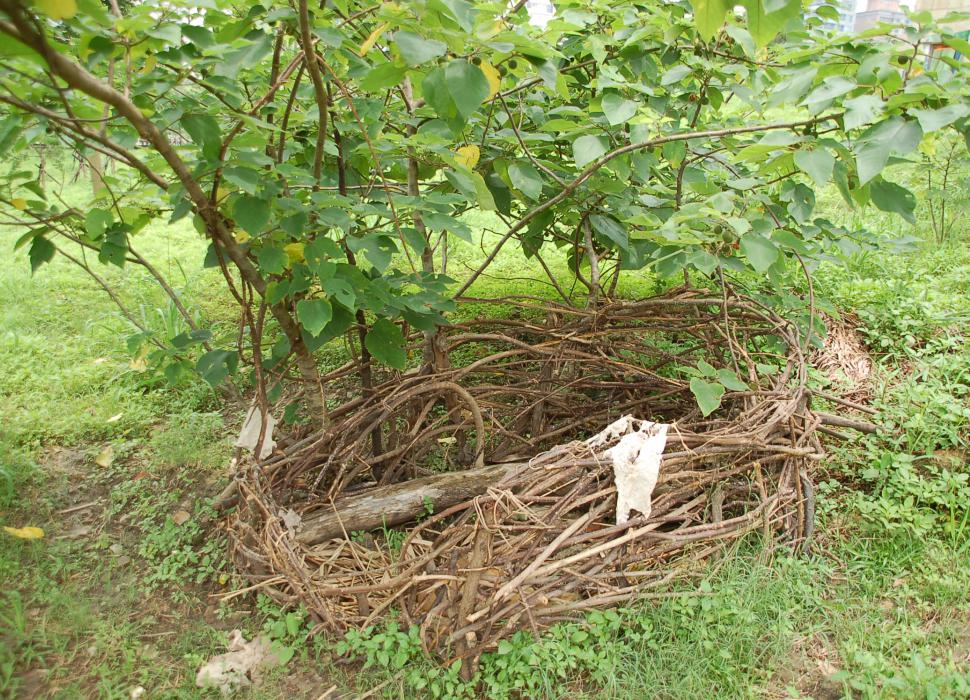 人可臥在其上的巢。
Nest for humans to lie down in.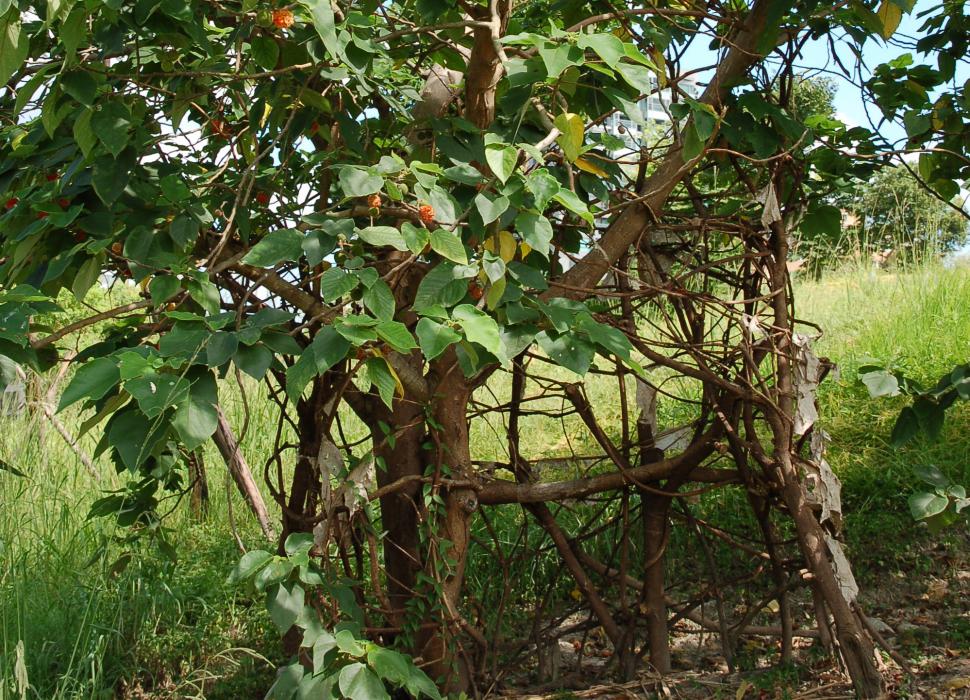 人可坐在裡面的巢。
Nest for humans to sit inside.