Kaling Diway | 棲所 Habitat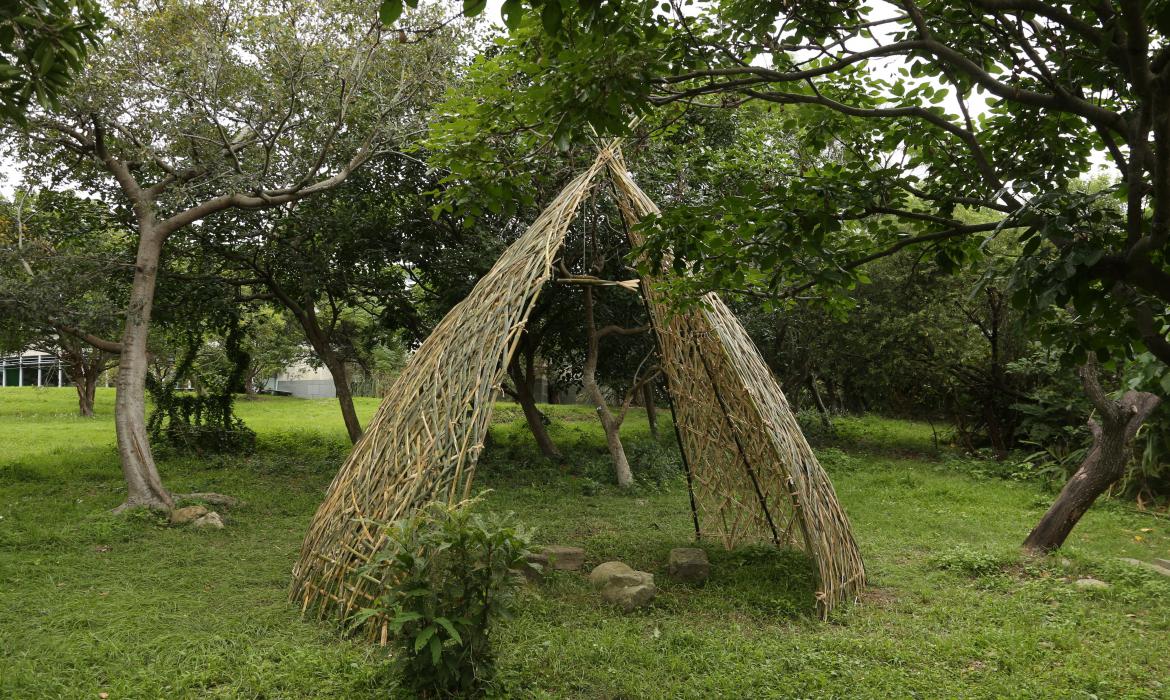 棲所 Habitat
陳勇昌 Kaling Diway
臺灣 Taiwan

地點 | Location
月池平台對面草地
Grassland across the Moon Pond platform

材料 | Materials
竹子 Bamboo

第一次來到關渡碼頭,泥灘地上一漥漥的坑洞吸引了我的目光,那是彈塗魚歷經潮水起落的棲身之所。

我聯想起關渡自然公園的劃設,阻卻城市開發的步伐,為候鳥、招潮蟹與彈塗魚保留了豐美的棲地,也撫慰了來到這裏的人們騷亂的心靈。

這件作品造型發想自彈塗魚穴,隱喻了關渡自然公園保護河口濕地的角色,是生物與人類心靈的棲所。作品所在之處,曾是先人開闢的良田,並以此作紀念這裡曾有的阡阡陌陌。

When I first visited the Guandu Wharf, I was attracted by the numerous burrows on the intertidal mudflat. They were home to mudskippers, a safe shelter with constant ebb and flow.

This reminded me of how Guandu Nature Park acts as a buffer between urban development and nature reserves, to preserve a home for birds, fiddler crabs, and mudskippers, as well as a sanctuary for agitated minds of human beings.

Inspired by the mudskippers' holes, this work is metaphor of the role of Guandu Nature Park as a guardian of wetlands, a unique habitat for wildlife and humans. The site where the work is now located was the land cultivated by our ancestors. This work is thus a memento of the crisscrossed farmlands passed on. And also, an imprint of our own history.
藝術家 Artist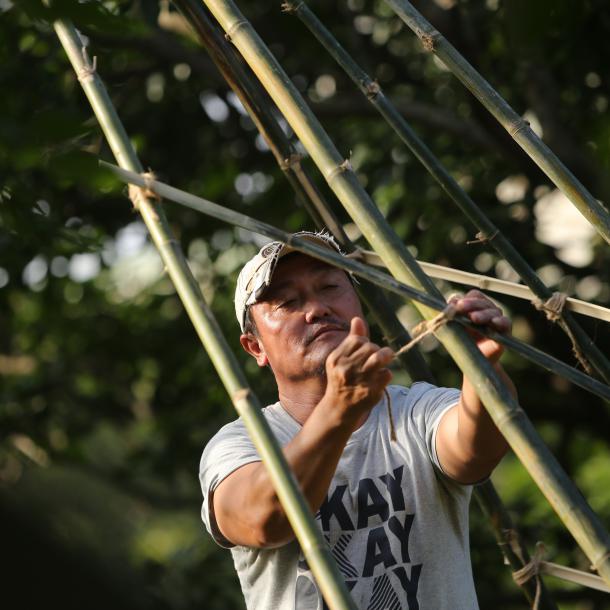 陳勇昌
來自花蓮縣豐濱鄉港口部落的藝術創作者,曾受邀參加「北海岸藝術祭」、「花東原創生活節」、「東海岸藝術季」、「港口創作營」及「洄瀾國際藝術家創作營」等現場創作,活躍於花東藝術圈;除個人創作外,多才多藝的陳勇昌,也從事劇場舞臺道具設計與製作及社區公共空間藝術營造等,擅長自然素材之重塑、解構、重組及雕刻,作品充滿對部落生活的情感,富有原民文化傳承的濃厚使命。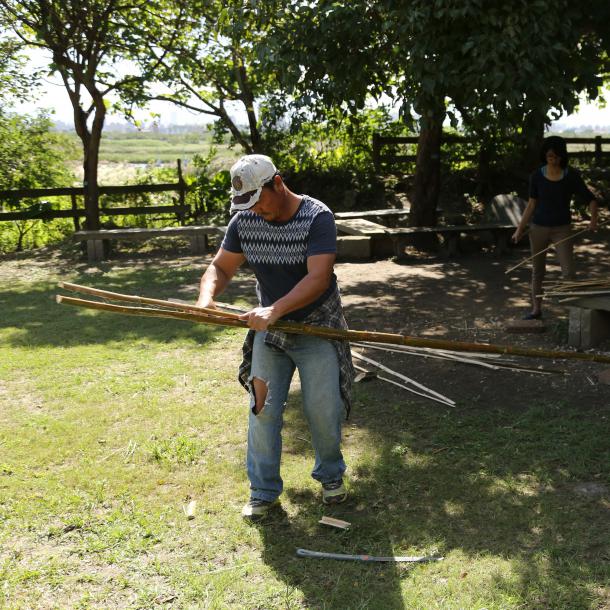 Kaling Diway
Kaling Diway is an artist from Hualien's Fengbin Township, which is home to the Makotaay community of Pangcah (Amis) Aborigines. He is active in the art community in East Taiwan and has participated in the North Coast Art Field, Original Living Art Festival, East Coast Land Art Festival, Hweilan International Artists Workshop etc. He is expert in reconstructing, deconstructing, recomposing and sculpting of the natural materials. He also has a wide array of skills in stage props design and production, public art space design etc. His works manifest a great affection for his community and a sense of mission to aboriginal cultural inheritance.
作品 Artworks