杉原信幸 Nobuyuki Sugihara 《貝之船,關渡:編織.水 》The Ship of Shells, Guandu - Weaving Water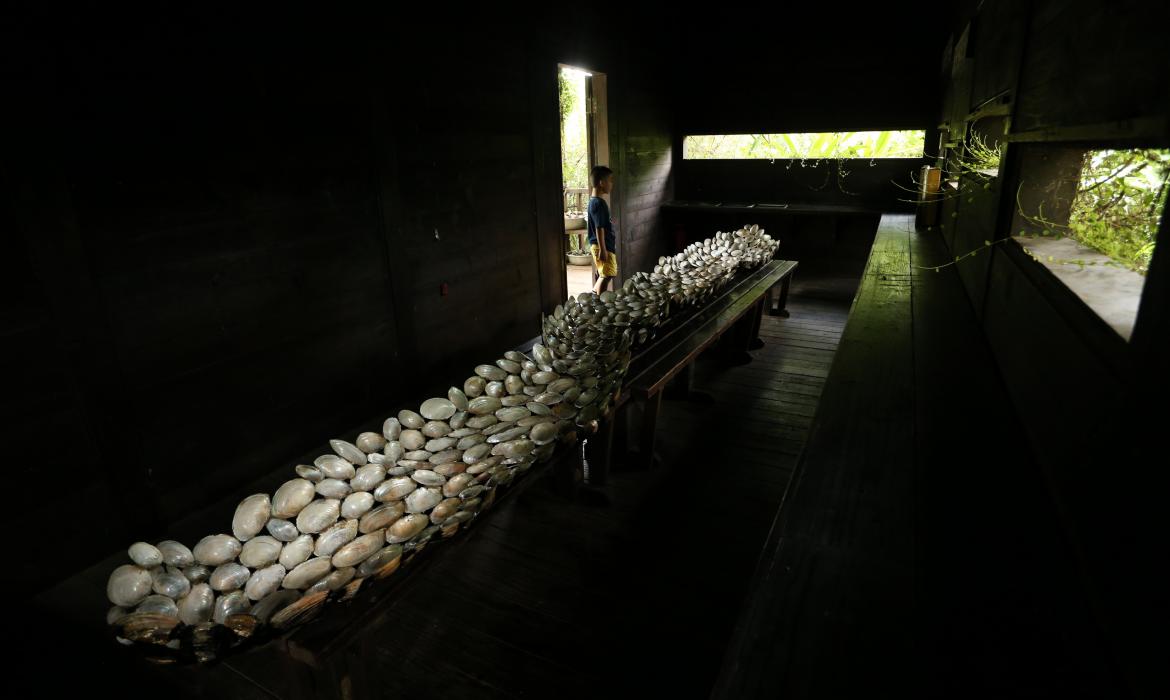 貝之船,關渡:編織.水 The Ship of Shells, Guandu - Weaving Water
杉原信幸
Nobuyuki Sugihara
日本 Japan

協力 | Co-create
綾花中村 Ayaka Nakamura

年份 | Year
2018

地點 | Location
三號賞鳥小屋 Birdwatching Cabin No. 3

材料 | Materials
圓蚌殼、孔雀蛤殼、生漆、在來米粉、糯米粉、香灰、牡蠣殼粉、人工樹脂
Freshwater shell, peacock shell, urushi lacquer, rice flour, sticky rice flour, ash, shell powder, epoxy resin

理念 | Statement
我在自然中心頂樓眺望日落,映照在我眼前的是沿著淡水河一整片城市與自然的交界,伴隨閃耀著光芒的水池,這幅景象一直深印我心。

這次創作我選用關渡自然公園蒐集到的圓蚌殼,以及淡水河過去曾經很常見的孔雀蛤,來打造一艘船。志工幫忙從埤塘底泥撈出非常多的圓蚌殼,如同耀眼的寶藏,這些在關渡自然公園內受到保護的淡水圓蚌,象徵水的純淨。餐廳提供的孔雀蛤目前多已從紐西蘭進口,但過去在河海交界處的河口很容易找到,喚起許多淡水河的美麗回憶。

我嘗試只用天然材料來創作,呼應著今年主題提醒我的永續及故事後續。我參考台灣傳統工法用米製成漿糊。關渡自然公園周邊仍保有一大片的水稻田,我對於這樣城市與水稻並存的景象感到吃驚,這片受到人保護的自然讓人印象深刻,也是促使我選擇米漿糊的原因。

我使用人工樹脂製作船時,由於這個化學材料會影響身體,我必須要帶著手套操作。但當使用天然的米漿糊時,我能用雙手自在地觸碰,讓我在創作時好像在用水編織這些貝殼一樣,感覺非常好。

這艘閃耀著珍珠光澤的貝殼船,有如那日我所見流動在城市與自然交界處、耀眼的水。這是一艘獻給關渡自然公園的船,向其中為了守護自然與人類邊界而努力的工作人員致敬,這些付出就如現代世界中的童話一般,守護一座能與自然共存的城市。

When I appreciated the setting sun on the roof of the center in Guandu Nature Park, the landscape of the boundary between city and nature extending along the Tamsui River, and the shimmering ponds were engraved on my heart.

This art piece is the ships made of freshwater shells collected in Guandu Nature Park, and the peacock shells which were commonly found in the Tamsui River in the past. The freshwater shells collected by the volunteers from the mud in the pond were like shining treasures, these well-protected shells in Guandu Nature Park are a symbol of water purification. The peacock shells, which used to be abundant at Tamsui's river mouth, are currently imported from New Zealand, which evokes the memories of a clean Tamsui River.

I strived for the best to use natural material according to the theme that reminds me of the sustainability and the continuation of the story. I connected shells with sticky rice glue made with the traditional technique in Taiwan. The Guandu Nature Park is surrounded by the vast rice paddies. I was surprised by the contrast between the city and the rice paddies. This well-protected nature park connected to rice paddies inspired me to use sticky rice glue.

Initially, epoxy resin was used in building certain part of one ship. However, since epoxy is bad for the body, I had to wear rubber gloves. It was a pleasant surprise when I used rice glue, as it can be touched with bare hands freely. I felt like weaving the shells with water.

The ship shines like a pearl is mimicking the glittering river lay between the city and nature I saw that day. It is a ship dedicated to Guandu Nature Park and the people conserving the boundary between nature and human activities. The effort of protecting a city that co-exists with nature is like a modern fairy tale.
藝術家 Artist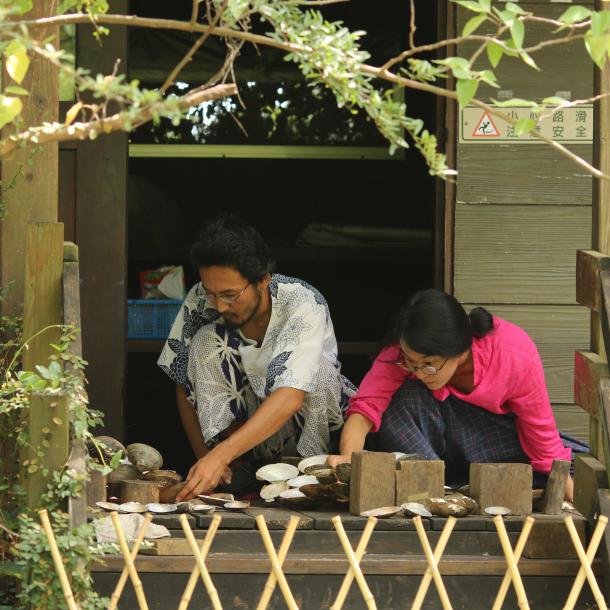 杉原信幸
年生於日本長野,東京藝術大學油畫碩士學位,創作多與自然環境和原初文化連結,擅長利用自然素材(如貝、石、木、土、草、繩、網、布等),做出帶有神秘原始力量的空間裝置,有種古老文明遺跡的氛圍。於2010年起擔任「信濃國原始感覺藝術節」藝術總監至今。
Nobuyuki Sugihara
Nobuyuki Sugihara was born in Nagano, Japan in 1980 and has graduated from the Master Course in Oil Painting of Tokyo National University of Fine Arts and Music. His creation connects with natural environments and primitive cultures and is expert in using natural materials (such as shell, stone, soil, grass, rope, net, fabric) to make installation with a mysterious primitive power which brings an impression of the ancient relic. He is the art director of the SHINANO Primitive Sense Art Festival since 2010.