大橋頭藝術工作室 Bridgehead Art Studio 《超時空自然要塞》The Hyper Dimension Natural Fortress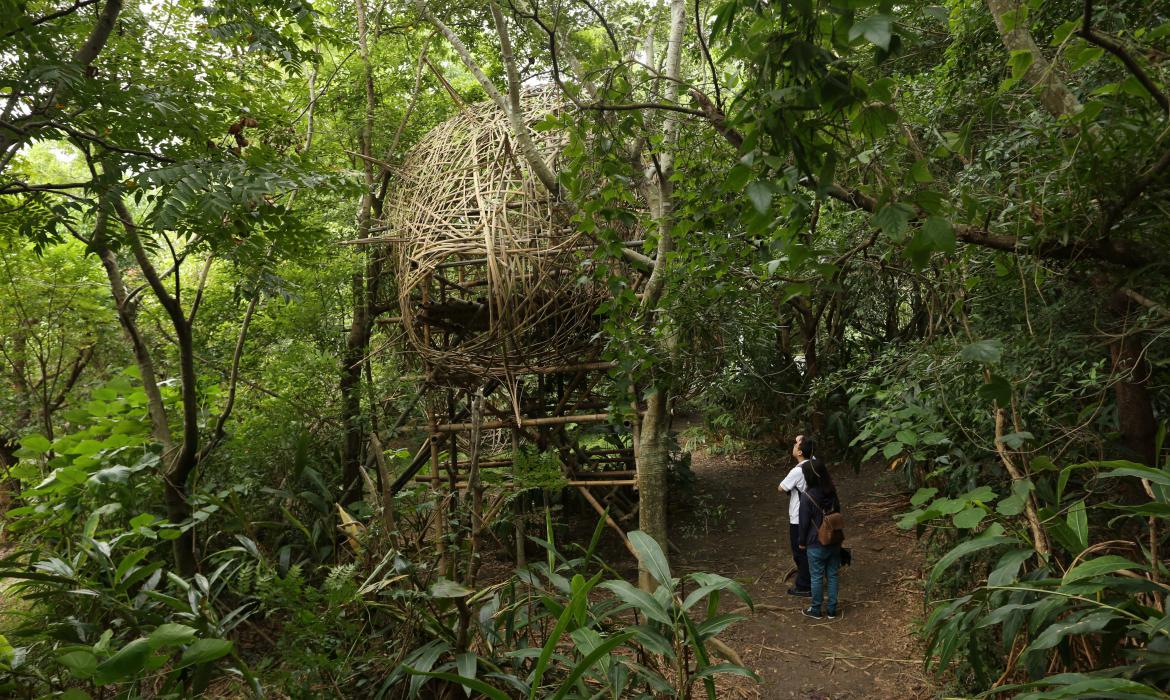 超時空自然要塞 The Hyper Dimension Natural Fortress
大橋頭藝術工作室(周學涵/姜名駿)
Bridgehead Art Studio (Chou, Hsueh-Han / Chiang, Ming-Chun)
臺灣 Taiwan

年份 | Year
2018

位置 | Location
階梯廣場旁樹林
Forest near the Outdoor Theatre

材料 | Material
竹、麻繩
Bamboo, sisal rope

理念 | Statement

「以前的人做得到,我們一定做得到。」

我們以此次的策展主題「從此過著幸福快樂的日子?」作為思考的起點。究竟我們如何與大自然、人類之外的生命共同生活。我們從「構築」的概念,返回思考過往的人們是如何建築在環境中生存的棲所。因此,我們這次的創作,將降低到最低層次的工具面向,以手工具與自然素材做為我們的工作形式,用「不插電」的方式蓋出一個能夠與環境共存並提供我們不同的視野去觀看這個世界的一座「環境中的高塔」。

"They can do it; we can do it!"

To respond to the festival theme "Live Happily Ever After?", we began with the idea of "constructing".

Through reviewing the history of humans and nature lived harmoniously with mutual respect, this artwork attempts to create a home with this concept through a non-modern engineering approach using hand tools and natural resources.
藝術家 Artist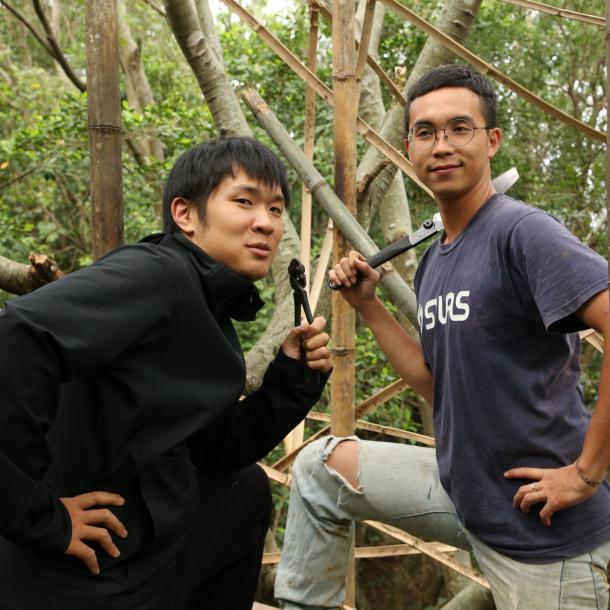 大橋頭藝術工作室
大橋頭藝術工作室由周學涵與姜名駿兩位年輕藝術家組成。以公共藝術、環境藝術、燈光藝術為主要發展方向,維持有機的組成狀態,重視作品與時間、空間場域結合所產生的美學。構築於視覺藝術、立體造型專業基礎,同時著重以田野調查為創作的公共性進行鋪墊,追尋適合的媒材、聆聽在地故事,做出與地方更有連結性的創作。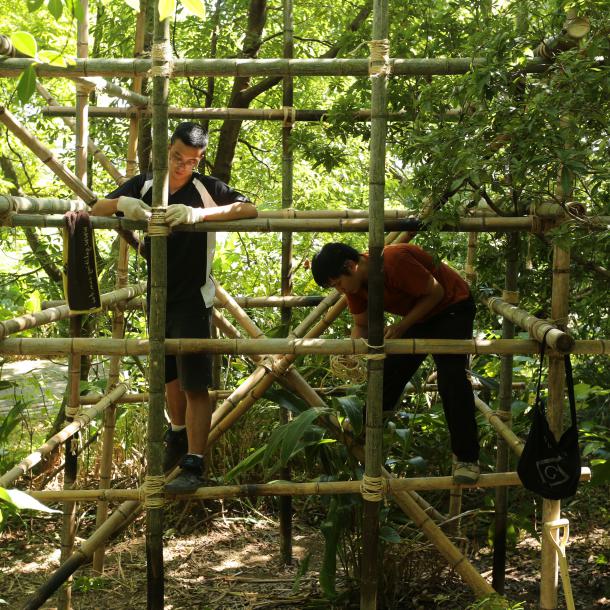 Bridgehead Art Studio
Bridgehead Art Studio was founded by two young artists Chou, Hsueh-Han and Chiang, Ming-Chun. They focus on public art, environmental art, and light art; besides, they emphasize on the aesthetic produced by the combination of the artwork, time, and space. Their practice roots in the expertise of visual art and three-dimensional design, and it develops through field research of the publicity of art creation, the pursuit of proper materials, and listen to the local stories. The aim is to connect their artwork with the place inextricably.