鳥類監測調查 Transect Bird Survey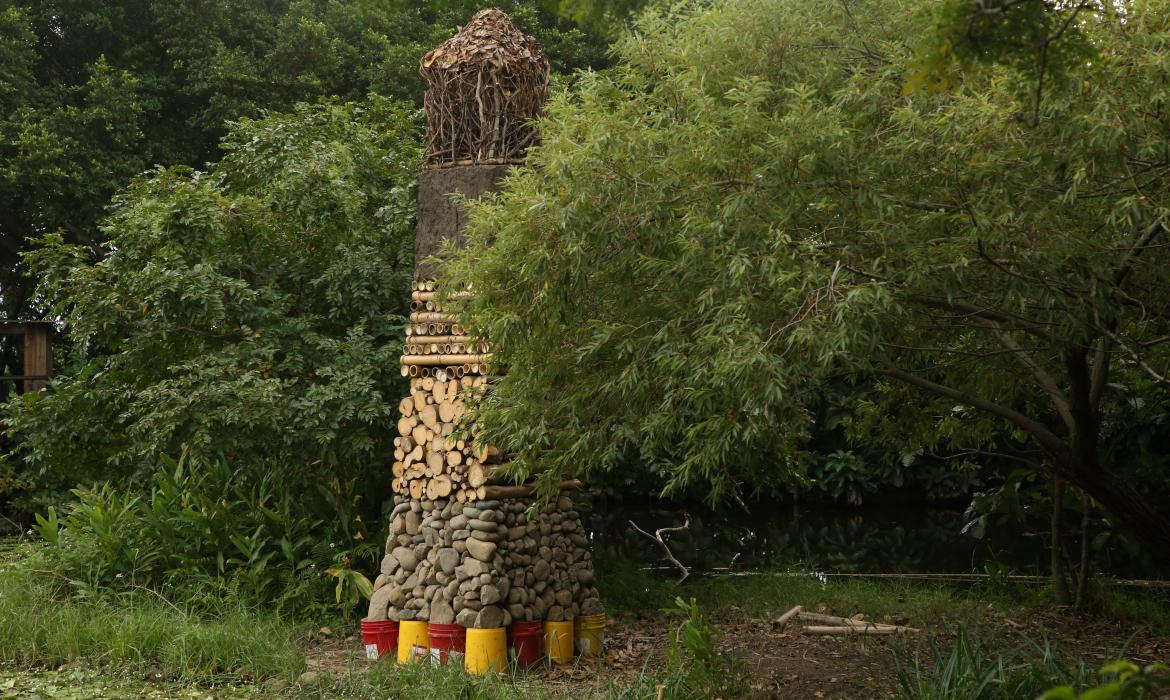 逝去紀念碑 Elapsed Monument 
黃冠菱 Huang, Kuan-Ling
臺灣 Taiwan

年份 | Year
2019

研究主題 | Location
鳥類監測調查Transect Bird Survey

位置 | Location
南池 South Pond

材料 | Material
竹、繩子、自然媒材、廢棄物
Bamboo, Rope, Nature Material, Waste Material

理念 | Statement
本作品整體造型以方尖碑概念為出發點,用以紀念那些逝去的、淡忘的、曾經存在的過往。作品以園區內所收集到的材料作為媒材,依照材質於自然環境中風化的相對速度作為彼此排列堆疊的順序。材質崩解的速度也對應了鳥類的數量與瀕危的程度,越容易消散的材質對應越瀕危的鳥類,作品將隨著時間的流逝,從上而下崩解、毀壞與消弭,最後回歸於自然之中。

作者嘗試將這種難以直接觀察到的數據轉換成視覺上直接的感受,企圖帶出對於環境議題的迫在眉睫與刻不容緩。

The overall shape of the artwork is based on the obelisk, meant to commemorate the elapsed, forgotten, and the once existing. The artwork used the materials collected in the park. This material are arranged and stacked in according to their relative speed of being weathered by the natural environment. The speed of material disintegration also corresponds to the number of the birds and the degree of their being endangered. The more easily the materials disintegration, the more birds may be endangered. The artworks will disintegrate, ruin in and disappear from top to bottom over time. In the end, those materials will return to nature.

The artist attempts to convert bird survey data into a direct visually feeling, in an attempt to bring out "It's About Time".
藝術家 Artist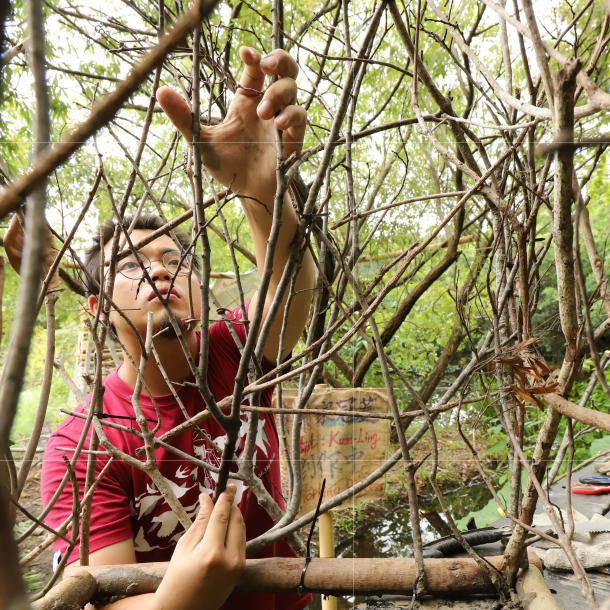 黃冠菱
藝術家長期關注自然相關的環境議題與活動,其創作手法慣常突顯材質本身的特殊性,彰顯材質本身的特色、質地與肌理,也常在作品中加入具有生命的有機物,讓作品擁有如生命般的反應與能量。在他的作品中常常可以觀察到「自然」與「人為」兩股力量互相抗衡,此外產生種種的碰撞與交錯、雷同、矛盾甚至是弔詭。當兩者看似涇渭分明卻又模糊不清之時,成為一種似是而非的窘境。本作品看似輕鬆自在,卻隱埋著某種耐人尋味的哲思與提問。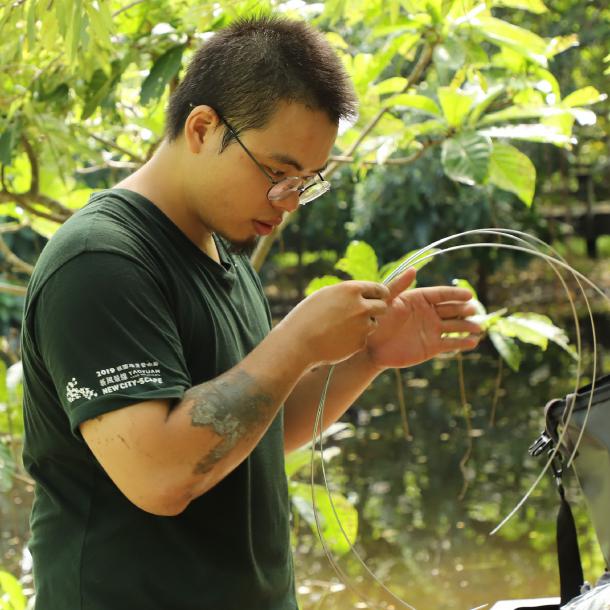 Huang, Kuan-Ling
Artists has long been concerned about nature-related environmental issues and activities. He is creation techniques often highlight the uniqueness characteristics and texture of the material itself. He also often adds organic materials to his artworks to make them feel more alive. Besides, in his artworks, we can find out that two forces of "nature" and "human beings" compete against each other, resulting in various collisions, interactions, similarities and contradictions. The two forces seem to be distinct but also ambiguous and this became a paradoxical dilemma. Thus, his artwork seems to be simple but in fact there is some philosophical thinking and questioning hidden in it.