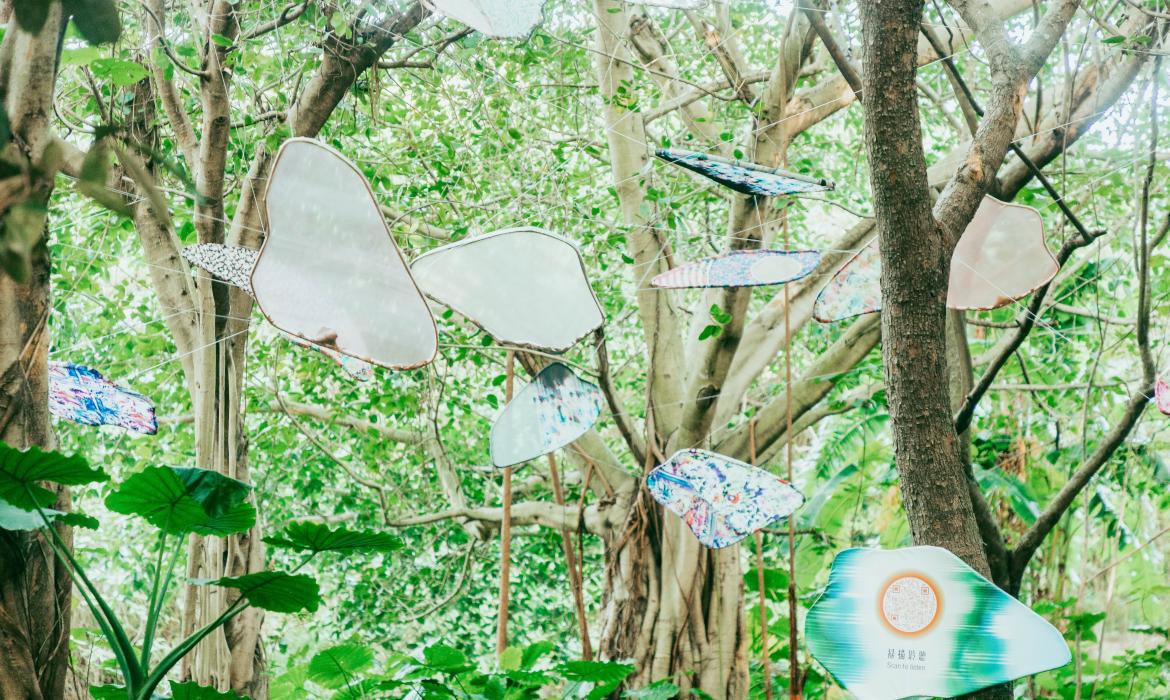 飛花 Blooming Wind 
蔡慧盈  Hui-Ying Tsai
臺灣 Taiwan

年份 | Year
2021

位置 | Location
海岸林區 Coastal Forest 

材料 | Material
竹片、複合媒材
Bamboo slice, composite material

理念 | Statement
看不見的風,藉被吹動的花草、髮絲、水紋而顯現,如聲音流動、滲入心靈。作品彷彿翅膀與花瓣的半抽象造型在空中輕舞、視覺化空氣與水的流動。水與風伴隨台灣市井的生活片段,在四時光影變化中,以關渡平原採集的環境音拼貼出聲景、創造現實與想像交織的心靈空間。
The invisible wind materializes in the swaying grass, flowers, ripples and hair, flowing like sounds into our hearts. This artwork, in its semi-abstract form likened to wings and petals, dances in the air, which allows the flow of air and water to be visualized. The water and wind change as the light and shadow shift through the seasons, accompanying fragments of life in Taiwan. Sounds collected from the Guandu Plain are collaged into a soundscape, creating a spiritual realm where reality and imagination converge.
藝術家 Artist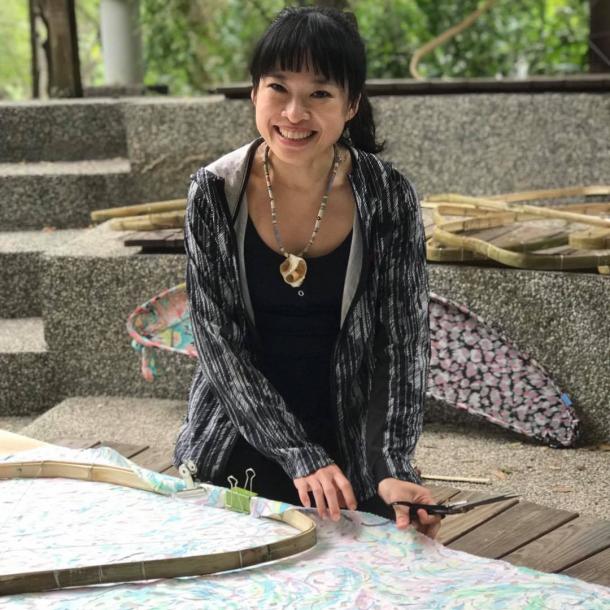 蔡慧盈
跨領域藝術家蔡慧盈長期駐點台北與紐約創作。畢業於高雄師範大學美術系,取得美國舊金山藝術學院碩士學位,主修新流派。對戲劇與文學的興趣反映在其作品的敘事特質,其中的象徵性呈現物件與符號所具備的歷史文化含義。她的作品從自身生命經驗出發,傳達屬於個人與集體的敘事。蔡慧盈近期的互動作品觀察原始到近代祭儀,實驗利用材質的物理性,具體連結精神與物質、感官的收與受。遊牧駐村的經驗催生了她將個人創作延伸至社區的想法,展開跨界與不同社群團體合作的『棲地計畫』。另外成立的新媒體藝術團隊『Circuladium』則藉科技互動實驗不同的感官經驗。
Hui-Ying Tsai
Hui-Ying Tsai is a cross-disciplinary artist who bases in Taipei and New York. She obtained her BFA from National Kaohsiung Normal University College of Fine Arts and her MFA in New Genres from San Francisco Art Institute. The narrating quality found in her work is a reflection of her interests in drama and literature. The objects and symbols, which are represented in symbolic gestures, embody the historical and cultural connotations. Tsai's art is inspired by her own experience in life and conveys both personal and collective narratives. Tsai's recent interactive works reflect her observations of the primitive and contemporary liturgies. She experiments with the physical properties of materials, connecting spirituality with materiality as well as the giving and receiving of senses in a concrete form. Her experience as an artist-in-residence led her to reach out to the community and initiate cross-disciplinary collaborations on "habitat projects" with various groups. She also founded Circuladium, a new media arts collective which creates sensory experiences through interactive technology.
作品 Artworks